A team of six students from Fanshawe's School of Public Safety have claimed victory over eight other Ontario colleges in their second-ever entry into the Paralegal Mock Trial Cup competition.
The Paralegal Mock Trial Cup competition gives students from all accredited Paralegal programs across the province the chance to show their advocacy skills and their abilities to argue the law. Students compete in front of a panel of real judges in real courtrooms as a way to build self-confidence and develop public speaking, oral and trial advocacy and legal research skills.
This year's competition was held in a knockout format at the Durham Regional courthouse in Oshawa and featured a small claims court case. This was only Fanshawe's second year participating in the competition.
The Fanshawe team put in an incredible amount of work, including practicing on Saturdays and Sundays for two months, to get ready for the competition. Their hard work paid off on Saturday, March 25, 2017, when they masterfully advocated their way to victory. To do so, they defeated Durham College (the host school), Algonquin College (last year's champs and the only team to beat us last year) and George Brown College (finals).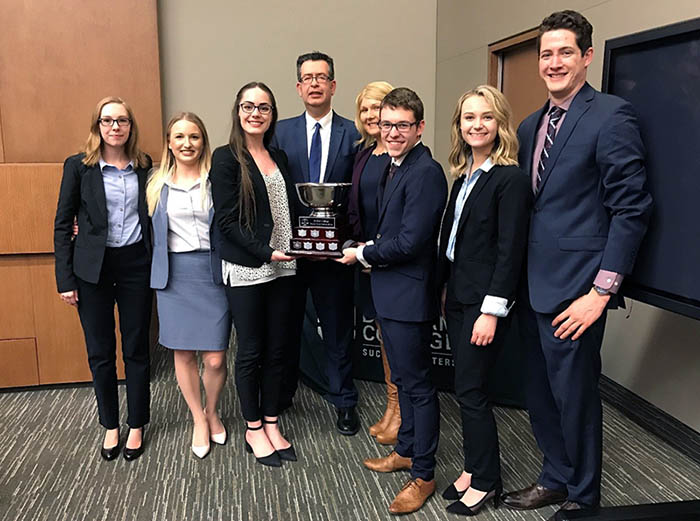 Fanshawe's 2017 Paralegal Mock Trial Cup championship team.
Congratulations to Kayla Porter, Jori Lacey, Evelyn Priestley, Sarah Goodman, Graeme O'neill and Mason Stewart for their amazing performances and team spirit and the joyful way they competed. Their coaches Anna Szczurko (Siskinds LLP), Nicholas Dasios (Paralegal program coordinator/law professor) and Ged Tillmann (Harrison Pensa LLP) couldn't be more proud of them!
For further information about Fanshawe College, please contact Corporate Communications.