On Wednesday, March 2, 2016, second year paramedic students from Fanshawe went to Montcalm Secondary School to teach students about the paramedic program, how to perform CPR and how to use an Automatic External Defibrillator (AED). More than 50 students were in attendance at the three hour event.
With AEDs becoming more available in public places and CPR being an easy to learn life-saving technique, the paramedic students were eager to teach the high school-aged students about CPR/AED use. The Fanshawe group consisted of five second year paramedic students: Tiffany Bacon, Laura Doherty, Jodi Grobbecker, Shannon Ludlow and Melanie White. The group chose high school students because they typically hang out where AEDs are found – arenas, malls, schools and other public places. With teenagers today being so proficient with technology, the group determined this would be the best age bracket to instill CPR/AED-use confidence in.
The students opened the demonstration with a brief discussion of what the paramedic program entails, required pre-requisites for entering the program, rewarding career opportunities in paramedicine and how the students could fundraise for an AED for their school. The Montcalm students were then encouraged to participate in an interactive lesson about recognizing emergencies and when/how to initiate CPR. Students were able to practice performing CPR on mannequins to gain confidence in their own abilities and become proficient at performing high quality CPR.
The students were also shown how to use an AED and where to locate AEDs in their community. The students were first given a demonstration, then took turns using the AED in a simulated scenario. They worked in pairs for their simulated emergencies and were given a brief description of their emergency such as: "You are in line at the movie theatre and someone in front of you suddenly collapses. What is the first thing you do?" The Montcalm students would then verbally walk through recognizing the emergency, checking their patient's responsiveness and having their partner "call" 9-1-1 and get an AED. The students then performed CPR on mannequins and used the AEDs on the mannequins.
The demonstration ended with a question and answer period, where the Fanshawe paramedic students answered further questions about paramedicine, the paramedic program, and CPR/AED use.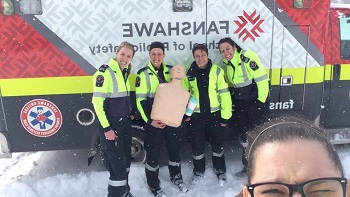 (l-r back row) Tiffany Bacon, Shannon Ludlow, Melanie White, and Jodi Grobbecker stand in front of the Fanshawe ambulance at Montcalm Secondary School. Front - Laura Doherty.