Fanshawe finds new faces, connections and ppportunities at Innovation Works.
Innovation Works is an exciting new London workplace designed to bring collaborative thinkers from various walks of life together under one roof. With Pillar Nonprofit Network serving as backbone for the project, this 32,000 square-foot building in the heart of downtown is a dream come true for many engaged stakeholders, including key champions at Fanshawe College and Libro Credit Union.
At its heart, Innovation Works is a community-driven initiative, made by and for London. Working together with many cross-sector organizations, businesses, entrepreneurs and individuals, Fanshawe, Libro, Pillar and friends are turning social challenge into social opportunity.
"We know from our research that London is yearning for a space designed to explore solutions to the community's economic, environmental, social and cultural issues," says Pillar Executive Director Michelle Baldwin. "There's no formula for creating ideas that change the world. Those ideas occur when the right people come together, in the right environment, and Innovation Works creates a space where the likelihood of it happening is greater."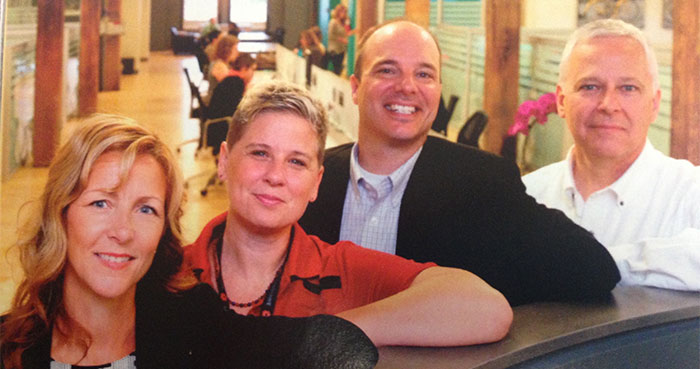 (L-R) Pillar's Michelle Baldwin, Fanshawe researcher Jodi Hall, Libro's Michael Smit and CRI Dean Dan Douglas gather at Innovation Works
When Pillar first pitched its plan to create a London social innovation shared space in 2013, Fanshawe and Libro immediately signed on, as key leaders shared the vision and recognized a unique opportunity to expand their respective and collective community impact.
"At Fanshawe, our promise is to educate, engage, empower and excite in everything we do," cites Centre for Research and Innovation dean Dan Douglas. "And, at Innovation Works, we are part of the conversation – colliding with people we wouldn't normally meet, and finding great new ways of working – away from traditional silos."
The sentiment is similar at Libro, where Regional Manager Michael Smit believes Innovation Works is a great fit for the credit union's goal to grow prosperity in Southwestern Ontario. "It's an amazing place to learn and share, with many different perspectives and approaches stimulating new ways of thinking about our community."
As founding tenants, both Fanshawe and Libro have leased permanent desks onsite to enable their staff to spend time out of the office, networking with others interested in social change and innovation.
With its four desks, Libro uses two stations to rotate varying staff through the workspace each month to collaborate, connect, and build greater community links. "We want it to be a dynamic experience," says Smit. "Innovation helps us think differently, and innovation lives through continual connections." Libro also sponsors two desks for social entrepreneurs to share in the creative environment, as a key company objective is to support social innovators.
Meantime, Fanshawe is using part of its space at Innovation Works to host research to investigate the impact of improving digital literacy among marginalized women. The project, recently funded through the Social Sciences and Humanities Research Council of Canada (SSHRC), is led by Professor Jodi Hall with the School of Nursing and provides an ideal focus within the shared space.
"This community-based work is the hallmark of college education connecting the community with students, and faculty, to address real world issues, concerns and needs," says Douglas.
A quick walk about Innovation Works confirms the new space is meeting everyone's expectations as an energizing and collaborative environment. "We're only open a month and already see connections unfolding among co-tenants," says Baldwin. "It's so gratifying to see people excited, and for those of us dreaming of this collaborative workspace for years, there's a sense of awe of seeing it physically coming to fruition."
For more information on getting involved with Innovation Works, check out www.innovationworkslondon.ca.
For further information about Fanshawe College, please contact Corporate Communications.