President Emeritus Dr. Howard Rundle was recently invested as a Member into the Order of Canada.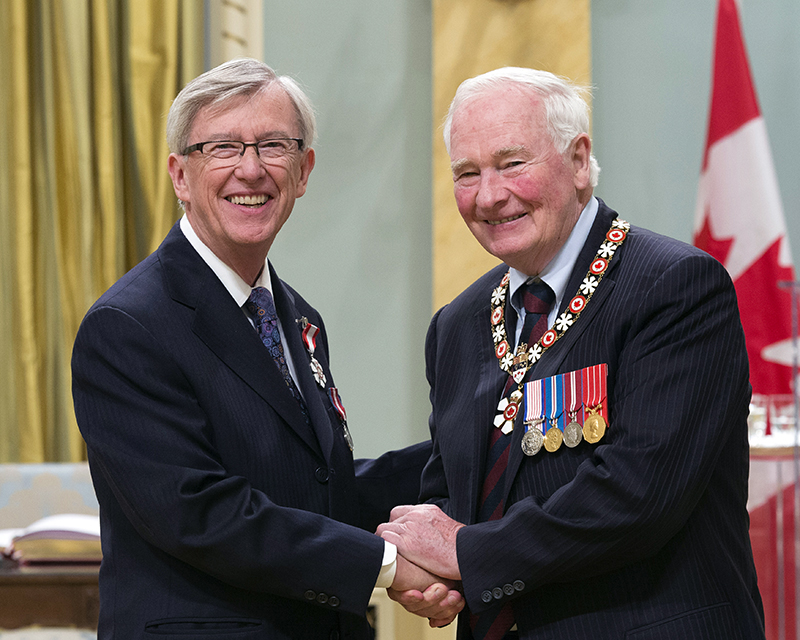 Dr. Rundle was presented with an official insignia of the Order from His Excellency the Right Honourable David Johnston, Governor General of Canada, on Friday, May 12. Six Officers and 38 other Members were also celebrated during the ceremony at Rideau Hall.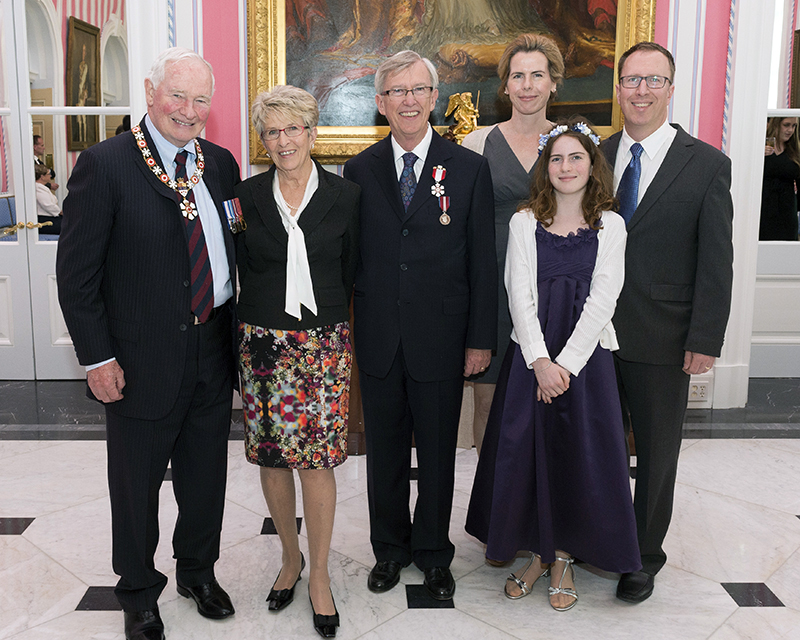 Clockwise from left: His Excellency the Right Honourable David Johnston, Governor General of Canada, with Lynda Rundle, Dr. Howard Rundle, their daughter-in-law Natalie and son Howard, and granddaughter Chloe.
The Order of Canada is one of our country's highest civilian honours, and includes three levels – Companion (C.C), Officer (O.C.) and Member (C.M.). Established by Her Majesty Queen Elizabeth II in 1967, during Canada's centennial year, the Order is the cornerstone of the Canadian Honours System, and recognizes outstanding achievement, dedication to the community and service to the nation. Over the last 50 years, close to 7,000 people from all sectors of society have been invested into the Order.
Dr. Rundle'sinvestiture at the level of Member recognizes his outstanding contributions to greater opportunity and prosperity for people in our region through education. As the longest-serving president of Fanshawe College, he oversaw its impressive growth, introduced new programs and facilitated the largest campus expansion in the College's history. At the provincial and national levels, he is recognized as a thoughtful leader who has shared his expertise with various organizations. Notably, he led the development of a new funding formula for Ontario colleges that improved transparency and supported enrolment growth.
In addition to his honorary title as President Emeritus, bestowed upon his retirement in August 2013, Dr. Rundle may now add the post-nominal "C.M." to his name and title in acknowledgement of his membership in the Order of Canada.
News of Dr. Rundle's apppointment was first announced in July 2016, along with three fellow Londoners to be similarly honoured: choral music stalwart Gerald Fagan, radiation researcher Tsun-Kong Sham, and trade-policy expert Ronald Wonnacott.
For further information about Fanshawe College, please contact Corporate Communications.