Fanshawe is pleased to announce a new academic partnership with Siemens Canada that will provide learning opportunities for the College's Advanced Ergonomic Studies students.
The in-kind grant has a commercial value of more than $28 million CAD. Students in the School of Public Safety will have the opportunity to learn using Jack™ software which is part of the Tecnomatix® portfolio, the industry-leading digital manufacturing solution from Siemens' Product Lifecycle Management (PLM) Software business. Jack is a leading-edge human modeling and simulation program that is considered industry standard. While using the software, students will design products and evaluate industrial tasks that are meant to improve user comfort and reduce musculoskeletal injuries. 
"This investment from Siemens ensures our students are well prepared for relevant and rewarding careers upon graduation," says Fanshawe President Peter Devlin. "We thank Siemens for its continued support of Fanshawe and helping us unlock the potential of our students."
By utilizing Siemens' PLM Software for course work, research and other academic studies, Fanshawe students will have the opportunity to develop the advanced skills required by the more than 77,000 global customers who already utilize Siemens' software and technology solutions. Tecnomatix is leveraged by more than five million users worldwide.

Michael Gardiner, Director, Industry Strategy, Siemens Canada, Digital Factory.
"Digitalization is rapidly changing every aspect of our lives, including how we work," says Robert Hardt, President and CEO, Siemens Canada, "We're thrilled through this grant to be providing Fanshawe students in the Advanced Ergonomic Studies program with sophisticated software tools to help develop safer, more efficient working environments for Canadians."
Mark Hunter, chair of Fanshawe's School of Public Safety looks forward to working with a global corporation that is on the leading edge of PLM technology.
"Students in our Advanced Ergonomic Studies program will now have the opportunity to learn using leading-edge software, preparing them for careers as industry leaders upon graduation," says Mark Hunter, chair of the School of Public Safety. "On behalf of our students, I thank Siemens Canada for this in-kind grant."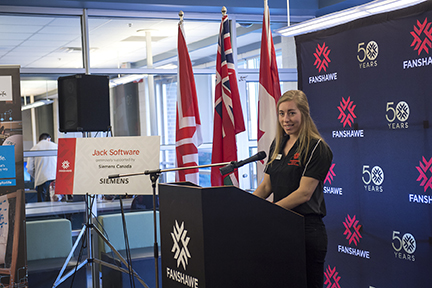 Advanced Ergonomic Studies student Anna Beenackers addresses
the audience to thank Siemens' Product Lifecycle Management
"Having gained hands-on experience with the Jack modelling software has greatly contributed to our thorough, scientific understanding of human biomechanics when exposed to various working circumstances, as well as provided experience in applying ergonomic analysis tools for both proactive and reactive design purposes," says Anna Beenackers, Advanced Ergonomic Studies student. "The knowledge and experience gained from our exposure to Jack will minimize the learning curve and aid in the transition as we progress from students to working professionals in the field of ergonomics."
Siemens PLM Software is a leading global provider of product lifecycle management (PLM) software and services for a wide variety of industries including automotive, aerospace and defense, industrial machinery and heavy equipment, shipbuilding, medical devices and, electronics and semiconductor sectors.
For further information, please contact Corporate Communications.