Fanshawe College is pleased to announce a significant contribution from John Grace and Wendy Dell-Grace in support of the College's new location in downtown Goderich. Scheduled to officially open on March 30, the site at 33 St. David Street in the 'Kingston Block' will provide Fanshawe the opportunity to offer post-secondary programming in the community, including a two-year Business – Entrepreneurship and Management diploma program.
When the opportunity arose to have Fanshawe come to Goderich, John Grace became involved immediately, providing essential support to coordinate the effort. "My interest in the development of a Fanshawe College site initially came from a passion for economic development," he stated. "When the focus turned to business programming, my interest was really peaked. Our economy is dependent on the growth of small business and young entrepreneurs and what better way to foster this potential than to offer college programming in rural Ontario."
Wendy Dell-Grace was moved by the commitment of her husband to the project. When the discussion turned to the possibility of making a financial contribution to Fanshawe, she reflected on her own family history. This provided genuine inspiration, as Wendy's parents, Stanley and Svava Dell, were both passionate supporters of post-secondary education in rural communities.
In collaboration with her siblings, Brian Dell and Fern Dell-Gosselin, Wendy said, "We are honoured to offer this donation on behalf of our parents, Stanley and Svava Dell."
Catherine Finlayson, executive director of the Fanshawe College Foundation, offered her thanks to John and Wendy Grace for demonstrating such a strong commitment to support students. "Fanshawe is very pleased to have a new location in downtown Goderich," Finlayson said. "The support of our donors is essential to ensure Fanshawe provides a remarkable experience for our students. We offer our sincere thanks to John and Wendy for their support."
About Fanshawe College in Goderich
In December 2015, Fanshawe announced the establishment of a new site in downtown Goderich, which will open officially on March 30th, 2016. This new location will provide Fanshawe the opportunity to offer a selection of post-secondary programming, most notably a two-year 'Business – Entrepreneurship and Management' diploma program. Community members interested in learning more can attend a special event at 6:30 p.m. on Tuesday, March 22nd, at The Livery Theatre in Goderich. Fanshawe looks forward to presenting an evening with guest speaker John Baker, Founder and CEO of educational technology company D2L Corporation. Fanshawe staff members will be available before and after the event to answer questions from prospective students. The event is free to attend, but space is limited. All guests must register in advance by contacting Andrew Gunn at Fanshawe College at agunn@fanshawec.ca
 
About Stanley and Svava Dell
Svava (Einarsson) Dell was a pioneer and educator in the small remote mining community of Red Lake. Throughout her life, she supported and advocated for post-secondary education programs offered in rural communities. She was of the belief that no one should have to travel and live outside of their home community in order to study at the post-secondary level. Stanley Dell was a pioneer and self-made businessman. He created and operated two enterprises in the North. Both would have been proud to offer their support for the Business – Entrepreneurship and Management' program to be offered by Fanshawe Colllege in Goderich.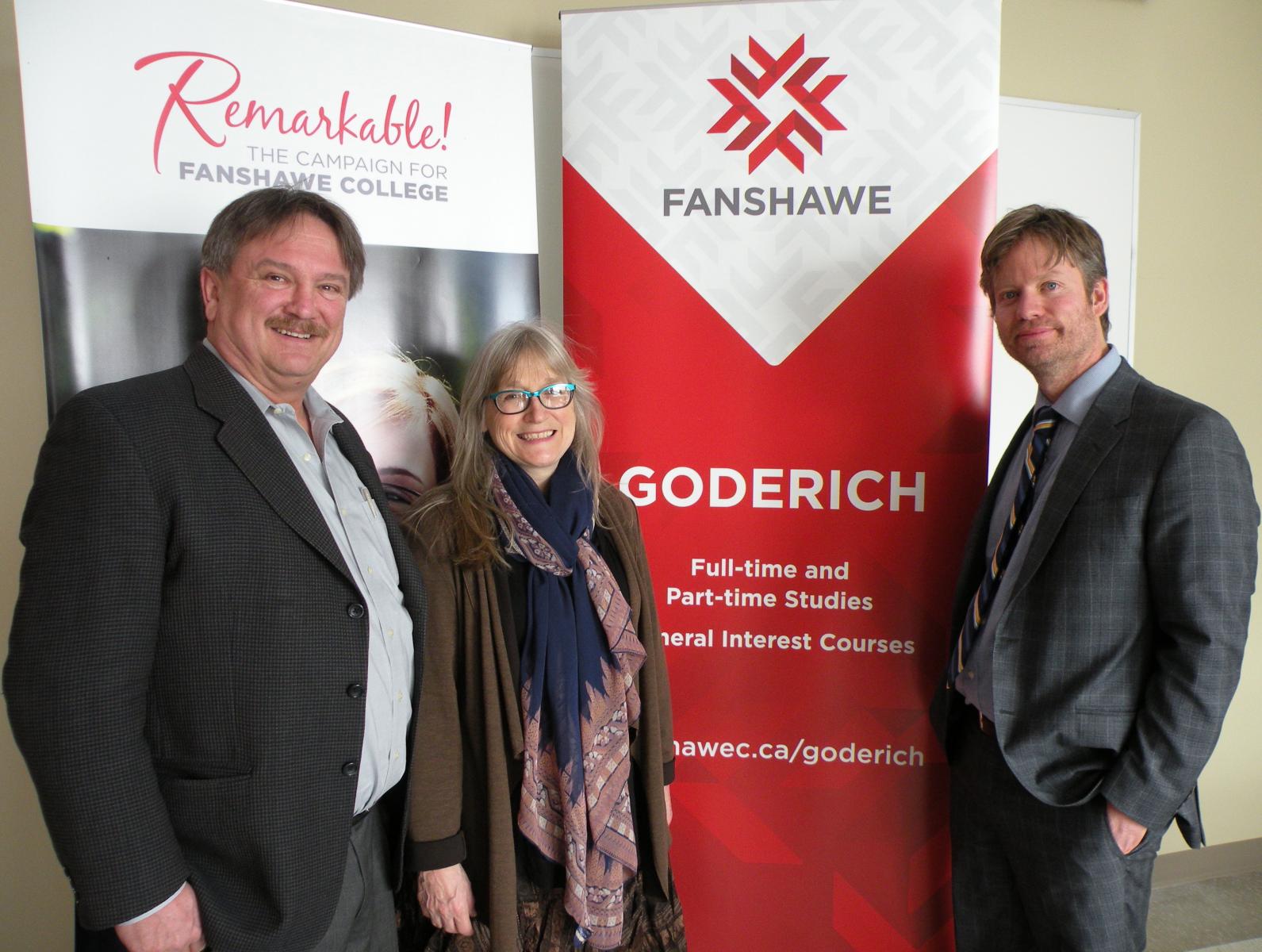 (left-right) John Grace and Wendy Dell-Grace with Andrew Gunn, Fanshawe College