Interactive media programs showcase applied research projects in Toronto
On April 27 and 28, the students and staff of the Reactr consultancy team exhibited two recent projects at conferences in Toronto.
Praktik, a joint project with the College's Nursing program, is an interactive module for health science students to learn how to measure vital signs. It includes rich media and interactive simulations and self-assessments, along with a study to evaulate the efficacy of simulation training as a learning resource for psychomotor skills. Praktik was exhibited at the second World Conference On Blended Learning, organized by the International Association for Blended Learning (IABL) and hosted at George Brown College.
The Reactr team also presented a project on Erosion Control in the student showcase at Digifest 2017, an international conference connecting digital innovators in business, education, design and technology. In partnership with International Erosion Control Systems (IECS), Fanshawe students developed a web portal and digital tool kit to assist engineers working with water control systems. Fanshawe students showcased the project, staffed an interactive exhibitors' booth and demo, and displayed the poster they designed for Research and Innovation Day. This event was also organized by George Brown College, and took place at Corus Quay on Toronto's waterfront.
"We were really excited to be part of two big Toronto events," said applied research project manager Natalia Aguillon. "We enjoyed showcasing Reactr, our projects, our programs and Fanshawe."
Reactr (Rethinking Education through Applied Collaborative Technology Research) is a faculty, staff and student consultancy team within the Interactive Media cluster of programs at Fanshawe. Reactr formalizes applied research and media curriculum initiatives to facilitate collaboration with Southwestern Ontario companies in order to enhance the student experience with more real-world, technology-based industry projects.
For more information, visit www.reactr.ca.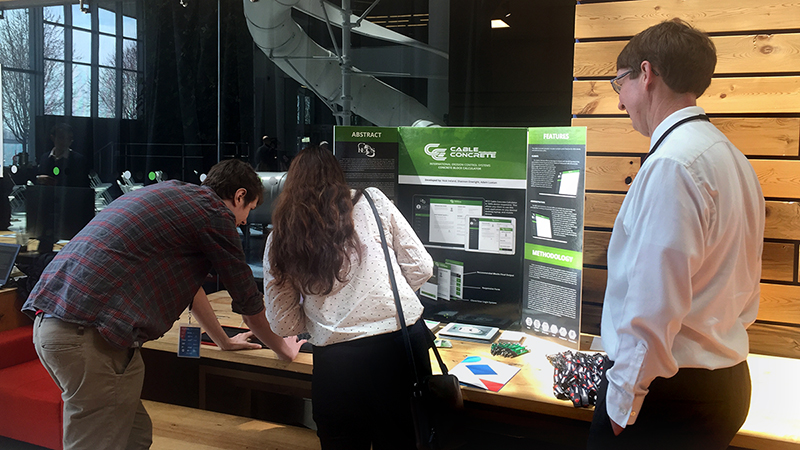 Guests visit the Fanshawe College interactive media student research exhibit at George Brown College