Fanshawe's LEAP Junction launches young entrepreneurs for success.
Boosting London's goal to generate "a city of entrepreneurs" within its Community Economic Road Map for 2015-2020, LEAP Junction at Fanshawe College is thriving in its support of young entrepreneurs.
LEAP Junction is part of the London Campus Linked Accelerator, which is a joint program with Western University through the Ontario government and its Youth Jobs Strategy. This program provides funding to post-secondary institutions to create a culture of entrepreneurship among youth 18-29, and integrates their entrepreneurial activities with investors, industry and other regional stakeholders.
In today's economy, one of the hottest career choices is starting a business. For young people with novel ideas, becoming an entrepreneur is an amazing way to pursue an interest, be their own boss, and develop financial independence. Yet, it's not for everyone.
LEAP Junction Entrepreneurial Animator Annette Markvoort notes many people like the idea, but it takes passion, spirit and tenacity to make the dream a reality. "To succeed as an entrepreneur requires inspiration and perspiration," says Markvoort. "Creating your own business takes resilience, competitiveness, attention to detail and the ability to pivot, as evidenced in all success stories."
Markvoort and her campus colleagues are available year-round to support start-ups at LEAP Junction. Its bright, new venue is strategically located within the student lounge, where people naturally gather, and the door is always open to learn more about this appealing co-working space.
One success story, among many, involves Fanshawe digital media grad Tyler Bryden, who launched his enterprise with support from LEAP Junction during his second year of college. Bryden's company SixFive Interactive is now a full-service marketing agency doing branding and design, website development, marketing automation and creative content production.
Markvoort believes Bryden's journey inspires others because of his collaborative outreach. "Tyler overcame personal challenges to mentor others through Bell Let's Talk Day, while thriving as a client of LEAP Junction and also a grad of Western's Propel Summer Incubator," notes Markvoort. "He's always ready to share ideas with other aspiring entrepreneurs and enthusiastically participates in community events, including Pillar's FUEL social enterprise program."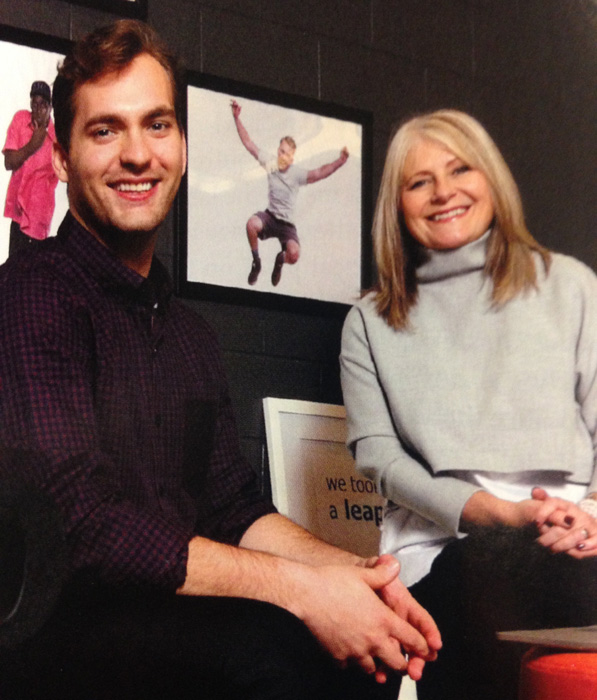 Tyler Bryden of SixFive Interactive (L) chats with LEAP Junction Animator Annette Markvoort
Bryden believes his business success is directly linked to LEAP Junction, "From the very start, Annette and her team created a community to guide and develop our business plans, connections and follow up. We appreciate everything they do for us!"
SixFive Interactive continues to grow and Bryden and his business partner, Fanshawe graphic design grad Alex Brucki, are excited to now operate from Innovation Works - London's new downtown shared space.
Reflecting on the company's success, Bryden says he and Brucki are fortunate to share a strong work ethic, with complementary personalities and skills, "I handle communications, marketing and operations, while Alex focuses on creative work and technical aspects of animation, video and photography."
Most recently, the duo launched a fully-equipped studio with a green screen and the technical know-how to produce dynamic videos for various audiences, as well as live-streaming services. So, they are delighted to welcome Fanshawe advanced filmmaking grad Nicole Coenen to their team in 2017.
Looking ahead, SixFive Interactive has eyes on developing its own platform to make an impact with a cross-section of valuable content and innovative technology in London, and across Canada. Meantime, Markvoort is focused on community collaboration with ecosystem partners Western, Innovation Works, UnLondon, the Small Business Centre, TechAlliance and LEDC, as a steady stream of start-ups continue to emerge from LEAP Junction.
For more information, check out http://sixfiveinteractive.com/about and LEAP Junction https://leapjunction.ca.
For further information about Fanshawe College, please contact Corporate Communications.