2015 Distinguished Alumni Award - Business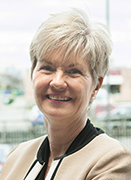 Regional President, Southwestern Ontario Region, RBC Royal Bank
(Graduated: Hotel and Restaurant Management, 1981)
A passion for serving the public led Francine Dyksterhuis to enroll in Fanshawe's Hotel and Restaurant Management program. Shortly after graduation, she put her new-found customer service and management skills to work in the business sector. In 1985, she started what has grown into a 30-year career with RBC Royal Bank.
In 2012, Francine became Regional President of RBC Royal Bank's southwestern Ontario operations where she is responsible for leading 3,000 employees located in 180 branches and 11 commercial banking centres in the delivery of all products and services to 1.25 million clients across the region.
Driven by an insatiable appetite to learn and impact the lives of others, Francine enjoys helping employees reach their full potential while delivering outstanding service and advice to clients. Francine is a mentor to many employees at RBC, launching co-ed LEAN IN Circles to advance the careers of men and women throughout the region.
An outspoken advocate for diversity, Francine is also a dedicated community member who has served on various boards including Junior Achievement and LIME, an organization committed to the career advancement of professionals with disabilities.
Francine is also the proud mother to Abigayle and a role model to other women at RBC who aspire to have rewarding, challenging careers and a family.