2015 Distinguished Alumni Award - Community Service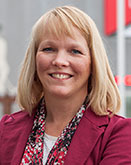 Director of Recreation, City of Brantford
(Graduated: Recreation Leadership, 1985; General Business 1994)
Growing up in an active household, Sandy Jackson was involved in sports – often in a leadership capacity – from an early age. Introduced to the Recreation Leadership program while enrolled in Fanshawe's Behavioural Science program, Sandy immediately knew the combination of leadership and sport offered a 'comfortable fit' and the promise of a rewarding career.
Shortly after graduation, that's exactly what Sandy found with the City of Brantford's recreation department. In 2013, after spending the majority of her 26-year career as manager of aquatics and fitness, Sandy was promoted to lead the 300-employee recreation department.
As director, Sandy is responsible for all City of Brantford recreation facilities and programs that serve millions of people each year, including the newly renovated Wayne Gretzky Sports Centre. During the five-year renovation, Sandy played a key role in everything from grant writing and leading a successful sponsorship drive to design consultation and overseeing construction for the $64-million project.
An effective advocate for both the social and physical benefits of recreation, she has worked to forge bonds with the city's social services department and improve access for all residents.
Sandy has embraced the opportunity to give recreation a prominent voice in the community, including as a key consultant in the development of a 25-year Master Plan for the city.