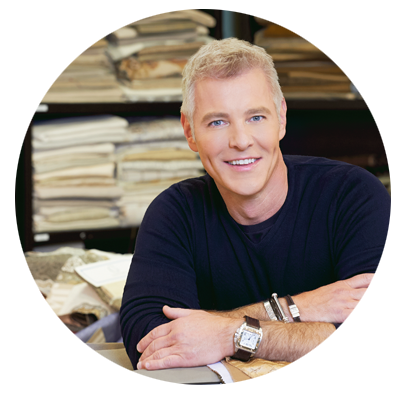 Steven Sabados - Creative Arts and Design Award
Host, The Goods on CBC
Designer, S&C Home Collection
(Graduated: Fine Art '86)
Recalling a creative process honed in his Fine Art program, which molds raw material into a chosen object, Steven Sabados thanks Fanshawe for molding him into the person he is today. Against the backdrop of international success as a television host, designer and writer, Steven remains focused on the theory of kinetics learned at college decades ago. It confirms everything is in flux, so an artist must capture moments. This revelation resonates with Steven and enables him to move forward in unexpected ways.
Prior to the sudden loss of Steven's life and business partner Chris Hyndman in 2015, Steven and Chris were winning television acclaim, contributing to the creative and charitable sectors, and blazing a trail for others in the LGBTQ community. In 2007, the pair launched a home décor product line across North America, under the brand S+C.  Working together, they enjoyed notable success with several HGTV shows before moving to CBC-TV in 2008 to host a new syndicated, daytime lifestyle show simply called Steven and Chris.
Today, Steven still captures moments and celebrates belonging to a co-host quartet featured on CBC-TV's The Goods. He continues his public journey while holding tight to his favourite Fanshawe creation, as a means of staying grounded.