2015 Distinguished Alumni Award - Honorary Alumni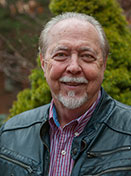 Retired Coordinator/Faculty, Music Industry Arts program
An accomplished singer songwriter and musician, Terry McManus joined Fanshawe in 1975 as a founding member of the Music Industry Arts (MIA) program. Throughout his 39-year career teaching students the business and legal aspects of the industry, Terry helped shape MIA into the comprehensive and effective program it is today. Terry continually sought out ways for students to showcase their talents, whether that talent was on the creative or business side of the industry.
Terry continued to pursue his music career outside of the classroom, collaborating with popular children's performers like Fred Penner and Ernie Cooms, a.k.a. Mr. Dressup in the early 1980s. In 1987, concerned with the lack of representation for songwriters in Canada, McManus led a group of people to found the Songwriters Association of Canada.
Terry has also authored and published books and managed an eclectic range of artists over the years, including a popular local Doo Wop a cappella act in the 1990s called The Essentials, "Survivorman" Les Stroud and currently The Birthday Massacre, one of the top Industrial Goth bands in the world.
Terry continues to be active as a singer, songwriter, author and mentor. Despite retiring from full-time teaching, he still returns to Fanshawe as a guest lecturer several times a year; the place he refers to as his "field of dreams".