2015 Distinguished Alumni Award - Health Sciences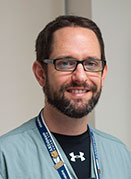 Best Practice Clinical Educator for Respiratory Therapy Services, St. Joseph's Healthcare, Hamilton
(Graduated: Pre Health Sciences, 2001; Respiratory Therapy, 2003)
Thomas Piraino was working part-time drawing blood at an out-patient lab when a co-worker suggested what would be a life-changing idea; why not consider a career in respiratory therapy? Four years later, right after graduation, Thomas began working as a respiratory therapist at Toronto General Hospital.
In 2009, he joined St. Joseph's Healthcare Hamilton as the Best Practice Clinical Educator for Respiratory Therapy Services. Today, Thomas spends most of his time interpreting the latest research, implementing new policies for patient care and educating respiratory therapists and other healthcare professionals about new techniques that have been shown to improve patient outcomes.
A pioneer in ventilation and respiratory monitoring, Thomas is proud to be at the leading edge of optimizing mechanical ventilation that helps manage the hospital's sickest patients, an approach that has drawn interest from professionals around the world.
His focus on educating medical learners extends beyond the hospital. In his spare time, he developed a website that serves as a resource for other respiratory therapists and, incorporating his love of music, changes lyrics of popular songs to promote the respiratory therapy profession.
It's been a rewarding year for Thomas. In addition to being named among Fanshawe's 2015 Distinguished Alumni, Thomas is also receiving awards from the Respiratory Therapists Society of Ontario and the Canadian Society of Respiratory Therapists for making a significant contribution to professional practice.