Atchison Plumbing owner supports students in memory of fellow alumnus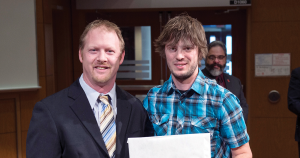 By all accounts, Stuart Bannister was the kind of worker any organization would be happy to employ.
A student of Fanshawe's Plumbing Apprenticeship Program, Bannister showed integrity in his work, demonstrated an ability to listen, had an eagerness to learn and could be trusted to do his job to the best of his ability.
As Scott Atchison, owner of Atchison Plumbing & Heating Ltd. and Bannister's employer for six years, puts it, "He held his own." That's why, when Bannister tragically passed away in a car accident in 2008, Atchison's company opted to create an award in his honour. The Stuart J. Bannister Memorial Award for Excellence in Plumbing, Level 3, is a $400 award presented each year to a student who has demonstrated a combination of academic merit, excellent effort and attendance. It isn't necessarily for the student with the highest grades, but rather a student who displays a commitment to a career in their chosen field of study.
A Fanshawe graduate himself, Atchison (Advanced Plumbing (Apprenticeship) '86) is a licensed Master Plumber, Gas Fitter, and a certified Geo-thermal designer and installer. He employed Bannister from his entrance into the apprenticeship system, through obtaining his journeyman license and working his way up to a supervisory position just before he passed away.
Since founding his company in 1994, Atchison has always emphasized the value of employees continually updating their skills and qualifications with ongoing training and so the award his company founded in Bannister's honour is very much in keeping with his philosophy.
"It's a team effort around here," Atchison says, "but we encourage people to do their own thing and to take a leap when they see something they want to try. The worst that can happen is they might fail, but you learn from that, too."
Atchison says that he and his wife, Brenda, created the award to recognize a student who demonstrates the same traits that Stuart did. "His loss was quite a blow to us, so we wanted to do something for students with the same kind of integrity," Atchison says. "Stuart was just the kind of guy you wanted to have working with you."
Information For
The Fanshawe College 2020 United Way campaign kicked off October 8, 2020 and will run until the end of January 2021.

Fanshawe College's Centre for Research and Innovation has developed a safe, rapid and inexpensive method to identify the effectiveness of potential COVID-19 drug treatments.