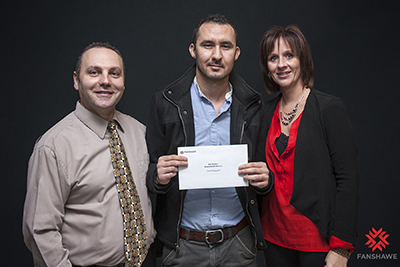 Louis Jraige, a proud faculty member in Fanshawe's Electrical Techniques program, knows first-hand how transformational education can be in someone's life; he sees it in the classroom every day. Recognizing how a lack of finances can sometimes be a barrier to enrollment and continuing education, in 2015 Louis established a bursary to support students.
Louis wanted to add personal meaning to his donation. He decided to honour his wife Cindy – and celebrate both her 40th birthday and recent College graduation – by naming the bursary after her late father: the Ken Mayhew Determination Bursary.
Louis continues to be inspired by Cindy's self-belief and determination to live her dreams – an approach to life she believes was instilled by her father – that motivated her to return to College as a mature learner and earn a diploma in Hairstyling and Cosmetology while balancing the demands of being a mother of four. After graduation, she paired her education with her entrepreneurial spirit to open her own salon, Studio 35, in London.  Louis felt naming the bursary in memory of Cindy's late father would encourage a student with the same determination and focus that Cindy showed in achieving her goals.
Louis said he chose to make his donation to fund this bursary through payroll deduction because it makes payments simple and convenient. The Fanshawe College Foundation is grateful to Louis, one of an amazing group of employee donors who gives back to open doors to education and enhance the student experience.
Have you thought about honouring someone with an Award in their name? Contact the Fanshawe Foundation at 519-452-4112 or advancementoffice@fanshawec.ca to start a conversation.