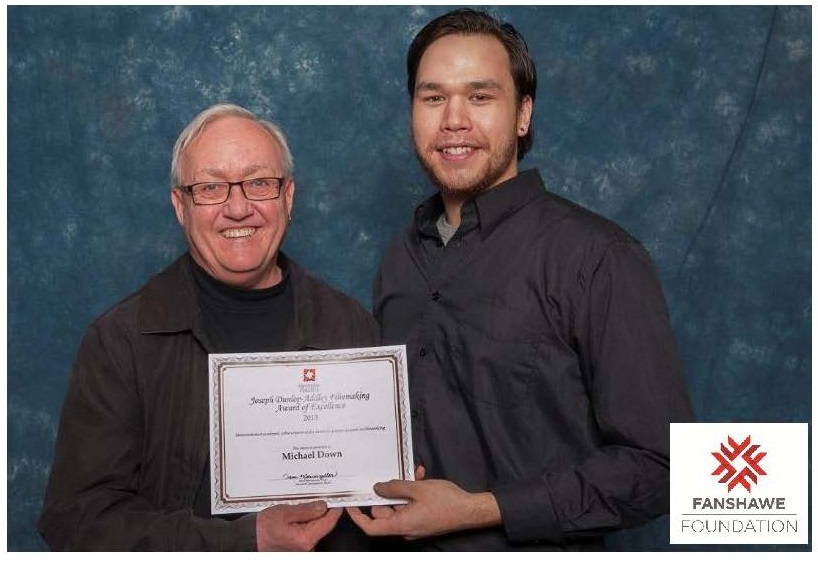 Upon graduating from Fanshawe College in 1972, Joseph Dunlop-Addley (Fine Art - Cinematography Major) was awarded a summer travel scholarship for independent studies to England and France from the Fanshawe Film Society. This experience impacted Joseph significantly and left him determined to help provide support to future Fanshawe students.
With an affinity for Fanshawe and a passion for education, Joseph's career path led him to work at the College for 38 years as a professor and program coordinator of the Advanced Filmmaking program. It was his dedication for teaching that ultimately inspired him to establish an annual award of excellence to recognize an outstanding student in the Advanced Filmmaking program pursuing filmmaking and film studies.
Since retiring from Fanshawe, Joseph has kept his connection to the College as strong as ever. Joseph is a former board member of the Fanshawe College Alumni Association as well as a donor to the College's film collection. Honoured as Fanshawe's first Professor Emeritus for his role in establishing the film studies program and recognized with a Distinguished Alumni Award in 2001, Joseph is actively involved in the 'Fanshawe Family.' According to Joseph, "Fanshawe has always been my home away from home."
To ensure his award will live on well into the future, Joseph has made a planned gift in his will to the Fanshawe College Foundation. Setting up this bequest instills a sense of pride knowing future students will benefit from his generosity.  
Joseph hopes that his gift will motivate others to leave a legacy and celebrate excellence in education. The College is fortunate to have someone as enthusiastic as Joseph to help transform the student experience.
Give the gift of learning through a gift in your Will or a gift of life insurance. 
To learn more how you can share your passion for education with future generations, please contact us at 519-452-4112 or advancementoffice@fanshawec.ca