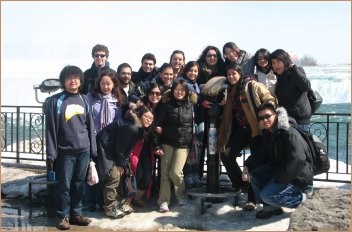 The International department at Fanshawe College helps international students in many ways. You may already be familiar with the International Department and its services, such as academic counselling, home stay, and various activities. We also help international students settle in by offering a one-on-one matching program, called the 'Peer to Peer' program.

In the Peer to Peer (or P2P) program Canadian students will assist new international students in their adjustment to life in Canada and accessing resources available at Fanshawe as well as in the community. The Peer to Peer program is a great way to meet new friends, experience a different culture, learn a new language, and improve students' cross-cultural communication skills.
To participate in the Peer to Peer program students pick up an application from the international office and attend a short interview with the Host Program Facilitator.
The facilitator will review all applications and determine the best possible match between international and a Canadian student.
Once the students are matched up, they are expected to commit 10 hours a semester to the program and are encouraged to attend events on and off-campus together. Most students try to keep in touch after graduation and form long-term friendships.
For more information or an application form, please contact:
Cynthia Konnerth
ckonnerth@fanshawec.ca
International Centre, Room E2025, London Campus