Ghent, Belgium and Steyr, Austria
Dates: June 27 to July 11, 2020
Location:: The first week of the program will take place in Ghent, Belgium at Artevelde University College, and the second week of the program will take place in Steyr, Austria at the University of Applied Sciences Upper Austria.
Information:
This is a two-week European adventure for students interested in innovative business and sales models, who want to witness how innovative European business can be, for students who want to meet people from all over the world and work together on interesting cases, and who want to discover two beautiful cities in Europe!
This Summer School is a collaboration between Artevelde University College (Ghent, Belgium) and University of Applied Sciences Upper Austria (Steyr, Austria).
The first week of this summer school takes place at Artevelde University College in Belgium, and will focus on cooperative and design thinking, which will unleash your creativity in order to bring you from an idea to a prototype.
The second week starts with a city trip to Vienna, continuing with an academic program in Steyr at the Faculty of Management.
Courses:
This summer program is open to all students at Fanshawe College and can qualify for elective credit with approval from program coordinator in advance. There is scholarship funding available for students participating in summer programs. For more information on available scholarships, visit the International Office (E2025) or email studyabroad@fanshawec.ca.
Program cost:
This summer program costs 1450 euro (approximately $2,100 CAD), with an additional 100 euro application fee (approximately $145 CAD).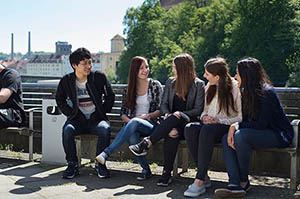 Cost includes:
Tuition and lecturing materials;
Company visits;
Bus transfers and airport transportation service;
Accommodation;
Half board (breakfast and dinner);
Cultural and social events;
Closing ceremony.
Cost does not include:
Round-trip airfare;
Visa/insurance costs.
Accommodation:
The accommodation is provided by the host, and all students will stay in the same accommodation.
Application:
The applications for this summer program are due by March 15, 2020.
To apply:
Pick up an application form from the International Office (E2025), or request one via email from studyabroad@fanshawec.ca;
Submit a completed application form and application essay to Caitlin Smith, International Projects and Exchange Coordinator, Fanshawe International (E2025) no later then Monday, March 9 at 1:00 p.m.;
Final selections will be confirmed by Wednesday March 11, 2020.
For more information go to the International Office (E2025, London Campus) or contact studyabroad@fanshawec.ca.