JAMK Summer School, Jyväskylä, Finland
Dates: May 29 to June 19, 2020.
Location: JAMK University of Applied Sciences in Jyväskylä, Finland.
Information:
Intensive, three-week study tracks have been designed to challenge and inspire you in your studies. JAMK Summer School includes lectures, workshops, get-togethers and interesting site visits. Each year JAMK Summer School gathers around 200 students and lecturers from e.g. Argentina, Mexico, Canada, Singapore, the USA, and from Europe.
The Summer School program starts with a weekend in Helsinki, the capital of Finland, where we ask the students to arrive on Friday, May 29, 2020. The orientation will take place in Helsinki on Saturday, May 30. Our student tutors will meet you at the airport and guide you to the city centre and your accommodation. Two nights at a hostel, guided sightseeing tour and bus transfer to Jyväskylä on Sunday, May 31 are all included in the administration fee. We start the studies on Monday, June 1, 2020, and classes commence right after that.
Students have the opportunity to join optional study tours before/after the summer school program. These tours are focused on cultural learning and are organized by JAMK. You will be with other summer school students from around Europe and the world.
| Location | Dates | Cost |
| --- | --- | --- |
| Helsinki, Finland | May 29 to 31, 2020 | No cost! |
| Tallinn, Estonia | May 31, 2020 | 120 € |
| Stockholm, Sweden | June 12 to 14, 2020 | 375 € |
| St. Petersburg, Russia | June 19 to 22, 2020 | 490 € |
There are also many opportunities for students to participate in activities around the city.
Courses:
This summer program is open to all students at Fanshawe College and can qualify for elective credit with approval from program coordinator in advance. There is scholarship funding available for students participating in summer programs. For more information on available scholarships, visit the International Office (E2025) or email studyabroad@fanshawec.ca.
The Leadership, Communication and Tourism program includes four courses of your own choice. Each course is three ECTS. After completing the courses you will receive a Transcript of Records on the credits you have earned.
Ethics and Law for International Managers;
European Business Management and Communication;
Global Destination Branding;
Game Art and Design;
Psychology for Business Management;
Advanced Engineering Technologies and Robotics;
Dynamic Creativity Management;
Global Team Leadership;
International Business Speaking;
Services Design;
Sport Tourism Management.
Program cost
This summer program costs 690 euro ($1,000 CAD).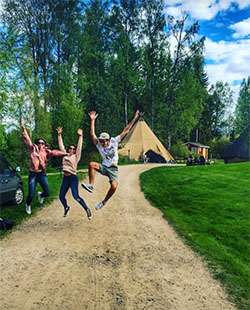 Cost includes:
Administration and course fees;
Summer school office and tutor services;
2 nights at Eurohostel in Helsinki May 29 to 31, 2020;
Transportation from Helsinki to Jyväskylä on Sunday, May 31, 2020;
Extracurricular activities: Helsinki and Jyväskylä city tours, cruise at lake Päijänne, Traditional Finnish Summer Eve Experience, farewell-party and other activities of your own choice (content subject to change).
Cost does not include:
Round trip airfare;
Accommodation during the course;
Visa/insurance costs;
Excursions;
Health insurance;
Additional spending money.
Accommodation:
Students will stay in a hotel during their time in Finland. JAMK suggests two options for students that are close to campus. These options are:
Greenstar Hotel:
Five-minute walk from campus, includes breakfast, WiFi, laundry, fridge and kitchenette.
Prices:
Single room: 81€ per night ($118 CAD).
Double room: 45€ per person per night ($65 CAD).
Verso Urban Hotel
Located in the city centre, includes breakfast and WiFi.
Prices:
Double room: 45€ per person per night ($65 CAD).
Application:
The applications for this summer program are due by April 20, 2020.
To apply:
Pick up an application form from the International Office (E2025) or request one via email from studyabroad@fanshawec.ca;
Submit a completed application form and application essay to Caitlin Smith, International Projects and Exchange Coordinator, Fanshawe International (E2025) no later than March 9, 2020;
Final selections will be confirmed by March 15, 2020.
For more information go to the International Office (E2025, London Campus) or contact studyabroad@fanshawec.ca.