JAMK Summer School: Leadership, Communication, and Scandinavian Tourism
Dates: June 1 to 21, 2019.
Location: Jyväskylä, Finland.
Finland has one of the most advanced educational systems in the world, and as a country invests in innovation and quality of life. The City of Jyväskylä is located in Central Finland with numerous beautiful lakes and scenic nature. Jyväskylä has approximately 133, 000 inhabitants out of which every 4th is a student which makes the city very dynamic. What an inspiring environment to experience a summer program with Fanshawe's partner institution JAMK University of Applied Science! In addition to the various lectures, the summer school offers workshops, get-togethers, and interesting site visits!
Course options:
Sport and Tourism Management;
Mastering European Business;
Future Trends in Tourism;
Russian Business Culture and Language;
Global Destination Branding;
Frugal Approaches to Emerging Markets.
Students will select four course subjects for the duration of the program. Credit transfer must be reviewed on a case by case basis. Credits are not guaranteed to transfer to your Fanshawe program.
Please visit the JAMK website for more information on the class options.
Program cost: 345 euro (approx. $535 CAD).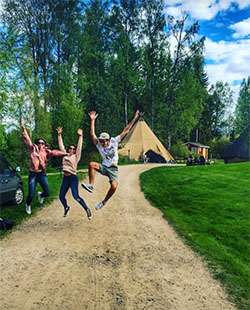 Included in the cost:
Administration and classes;
Summer school office and tutor services;
Transportation from Helsinki to Jyväskylä on Sunday, June 3, 2019;
Extracurricular activities*.
Additional costs:
Accommodation;
Meals;
Health insurance;
Round trip airfare;
Personal spending;
*Extracurricular activities: Helsinki and Jyväskylä city tours, cruise on lake Paijanne, traditional Finnish summer eve experience, farewell party, and other optional activities.
Accommodation:
765 euros per 17 nights.
Students in the summer program are eligible to register for hotel accommodation at Verso hotel in central Jyväskylä. Students can also elect to arrange their own accommodation if they wish.
Verso hotel (June 4 to 21) in Jyvaskyla: https://www.hotelliverso.fi/en/1/verso;
Right at the heart of the city;
Shared room with one other student;
Breakfast, internet, bedlinen and towels included;
Students are required to book themselves.
Optional study tours
Students have the opportunity to join optional study tours before/after the summer school program. These tours are focused on cultural learning and are organized by JAMK. You will be with other summer school students from around Europe and the world.
| Location | Dates | Cost |
| --- | --- | --- |
| Helsinki, Finland | June 1 to 3 | No cost!  |
| Tallinn, Estonia | June 3 | 120 euro |
| St. Petersburg, Russia | June 22 to 26 | 475 euro |
| Stockholm, Sweden | June 15 to 17 | 375 euro |
For more information about study tours, please visit https://www.jamk.fi/en/Education/jamk-summer-school/leadership-communication-and-scandinavian-tourism/study-tours/.
Applications
Applications for the Finland Summer Program are due May 15, 2019.
To apply:
Pick up an application form from the International Office (E2025) or request one via email from studyabroad@fanshawec.ca;
Submit the completed application form to Caitlin Smith, International Projects and Exchange Coordinator, Fanshawe International (E2025) no later than May 15, 2019;
Selected students will be contacted for an interview;
Final selections will be confirmed on an on-going basis until the spaces are full.
For more information go to the International Office (E2025, London Campus) or contact studyabroad@fanshawec.ca.