Utrecht Summer School, Netherlands
Dates: Varied.
Location: University of Applied Sciences Utrecht in Utrecht, Netherlands.
Information:
Broaden your horizon with a summer course in an inspiring international environment. The Utrecht Summer School offers a broad selection of over 200 summer courses in various disciplines. The Summer School is a cooperation of the Utrecht University, HU University of Applied Sciences and HKU University of the Arts. These institutions of higher education offer high quality, fully accredited summer courses in English on bachelor, master, PhD and post-academic levels.
Utrecht, Netherlands is located 40 kilometres south of Amsterdam, Netherlands.
Courses: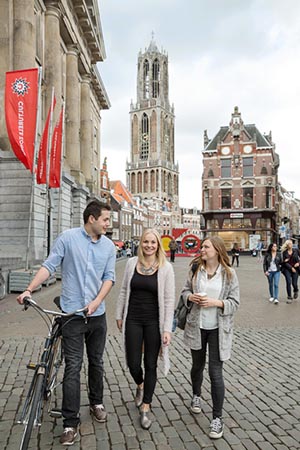 This summer program is open to all students at Fanshawe College and can qualify for elective credit with approval from program coordinator in advance. There is scholarship funding available for students participating in summer programs. For more information on available scholarships, visit the International Office (E2025) or email studyabroad@fanshawec.ca.
This summer program offers 219 different summer courses in the following disciplines:
Culture
Art and Music
Language
Life Sciences
Health Care
Social Sciences
Science
Law and Economics
Business
Engineering and Technology
To see all course options, please visit https://utrechtsummerschool.nl/courses/. This website has all information about course options, as well as the associated prices for the programs.
Program cost:
Program costs range from 390 euro ($570 CAD) to 2000 euro ($2,900 CAD) for one- to six-week programs. For more information on course selection and pricing, visit the International Office (E2025, London Campus) or contact studyabroad@fanshawec.ca.
Cost includes:
Cost does not include:
Housing costs;
Food costs;
Visa/insurance costs;
Round-trip airfare;
Additional spending money.
Housing costs:
Housing is 200 Euro ($290 CAD) for one week, and 150 euro ($220 CAD) for every other week: (1 week = 200, 2 weeks = 350, 3 weeks = 500, 4 weeks = 650, 5 weeks = 800, 6 weeks = 950, etc.)
Accommodation:
The Utrecht Summer School offers housing for its students. If you make use of this offer you will be housed in one of the student residences. The student residences are located throughout the city.
Accommodation features:
All accommodations are situated within easily accessible distances from the various educational institutions located in Utrecht (in general not more than 30 minutes by public transport). You should count on spending approximately €3-5 per day on public transport travelling from your accommodation to your course location.
The student residences are fully furnished and include crockery, cutlery, cooking utensils, cleaning materials and bedding. Internet is available via WiFi. The rooms are single rooms with a shared kitchen and shared bathroom.
Because the housing option consists of student residences they are therefore not a hotel-quality accommodation. If you prefer to stay in another accommodation, feel free to make use of one of the many hotels or bed and breakfasts in and around Utrecht.
Meals:
Most of the student cafeterias are closed during the summer. However, in your residence kitchen you will find everything you need to cook a nice meal and enough space to store some groceries. You should count on spending approximately €15 to €20 ($20 to $30 CAD) per day on food.
Application:
The applications for this summer program are due by March 15, 2020.
To apply:
Pick up an application form from the International Office (E2025), or request one via email from studyabroad@fanshawec.ca;
Submit a completed application form and application essay to Caitlin Smith, International Projects and Exchange Coordinator, Fanshawe International (E2025) no later then Monday, March 9 at 1:00 p.m.;
Final selections will be confirmed by Wednesday March 11, 2020.
For more information go to the International Office (E2025, London Campus) or contact studyabroad@fanshawec.ca.
Information For
The Fanshawe College 2020 United Way campaign kicked off October 8, 2020 and will run until the end of January 2021.

Fanshawe College's Centre for Research and Innovation has developed a safe, rapid and inexpensive method to identify the effectiveness of potential COVID-19 drug treatments.
RT @PolyCan: Congratulations to @RFanshawe for their breakthrough development in testing the effectiveness of #COVID19 treatments. A testam…
View on Twitter