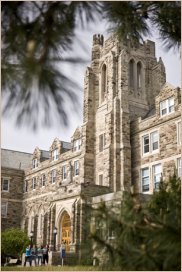 http://www.brescia.uwo.ca/
Brescia University College (Brescia) in partnership with Fanshawe College (Fanshawe), has developed a joint application to allow international students to apply to Brescia and Fanshawe at the same time. Students will be issued two letters of acceptance from:
Brescia University College: conditional letter of acceptance for your selected undergraduate program at Brescia, plus
Fanshawe College: letter of acceptance to Fanshawe College's ESL Program. Students must complete the Fanshawe Level 5 ESL Program with an 80% average to enter Brescia.
Areas of study include:
Management and Organizational Studies (Business)
Finance & Administration
Organizational & Human Resources
Arts
English
French
Philosophy
Religious Studies
Spanish
Women's Studies
 
Anthropology
Geography
History
Political Science
Psychology
Sociology
Health Sciences
Family Studies (Human Ecology)
Family Studies (Bachelor of Arts)
---