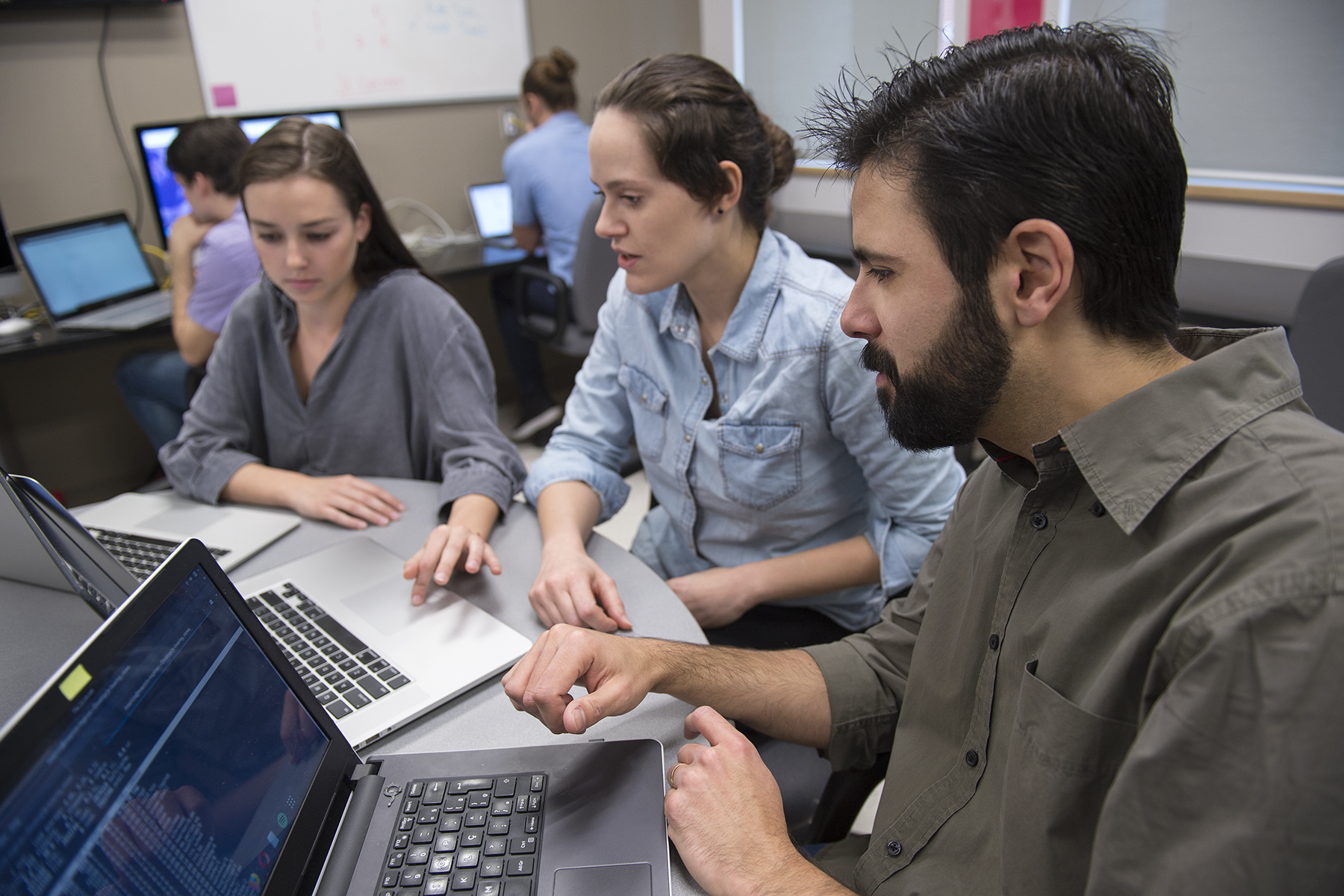 REACTR team working on J/E Bearing
Rethinking education through applied collaborative technology research
With a goal to bring real-world, technology-based projects into its Interactive Media cluster of programs, Fanshawe has launched an innovative research initiative called REACTR. Supported by the College's School of Contemporary Media and Centre for Research and Innovation, REACTR stands for Rethinking Education through Applied Collaborative Technology Research and operates as an applied research and media consultancy team for industry partners.
These project-based activities emerged when faculty began inviting companies in the greater London region to bring technological challenges forward, as a means of enhancing the student learning experience with actual business problems to solve, as a component of the coursework. Among the many companies liaising with REACTR is J/E Bearing and Machine Ltd., which manufactures a wide variety of custom metal machine parts, using state-of-the-art tools and production facilities.
Always honing workplace productivity, J/E owners asked REACTR to digitize printed training materials and job information, so operators could access details immediately, and supervisors could more readily respond to job-specific issues. Applying their technical expertise, the student team successfully developed a web-based information framework to enable operators to access all needed material via a web application running on Android tablets - without the need to leave their workstations.
About REACTR
REACTR is the applied research and media consultancy initiatives within the Interactive Media cluster of programs at Fanshawe College. The project-based activities that became REACTR emerged from curriculum initiatives in the Interactive Media program cluster that began in 2007. Interactive Media Faculty began to collaborate with companies in the London and Southwestern Ontario region to bring real-world, technology-based projects into coursework to enhance the experience for students in our programs.
Involving student teams as the core of these collaborative projects had significant educational benefits: The students had to work in teams with defined roles, and so find ways to make that work as effectively as possible. The technical and design demands of collaborative projects went significantly beyond the expectations within any single course or assignment, requiring independent research and problem-solving by the student teams. The students in general pushed themselves to excel in ways that we did not always observe in the classroom.
The response of student teams who participated in these projects was almost unanimously positive; some identified these projects as being one of the most significant learning experiences in their time at college.  REACTR has collaborated on over 35 student-driven projects with over 100 students.