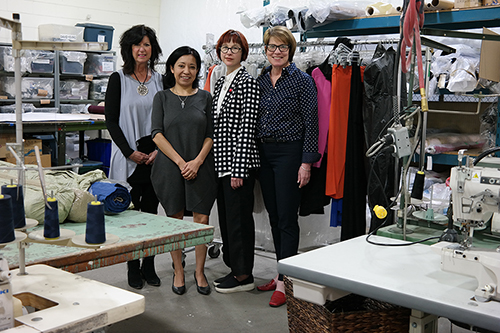 Cross-sector collaborators at the Goodwill micro-manufacturing site include designer Carmina de Young, Fanshawe researchers Jennifer Wright and Meredith Jones, and Goodwill CEO Michelle Quintyn
Saving our planet through new garment micro-manufacturing
Cross-sector collaboration key to local business opportunity
Countering decades of offshore "fast fashion" resulting in a glut of cheaply-made apparel destined for Canadian landfill sites, an innovative tri-sector collaboration is creating new opportunity for garment micro-manufacturing to flourish in the London region.  
Thanks to a $25,000 Natural Sciences and Engineering Research Council of Canada (NSERC) grant, two Fanshawe researchers with the School of Design are partnering with local enterprise Carmina de Young Fashion Design Inc. and Goodwill Industries to introduce the principles and methodology of "slow fashion."
This business model includes sustainable, domestic production of high-quality, small-batch design runs between 25-150 units, with fair wages, benefits and good working conditions for staff, and community involvement. Garment micro-manufacturing also strengthens London's economy, by supporting small business, startup fashion designers, brands and product developers. Without this research, many innovative business concepts remain simply ideas.
The local collaboration reinforces a Canadian movement within the fashion industry to address ever-increasing volumes of cut-rate apparel produced primarily in third-world countries, and shipped to Canada for quick sales at cheap prices. Yet, experience confirms the average lifespan of these imported fast fashion goods is only three months, so thrift shops are growing repositories for such cast-off clothing - that cannot be resold - thus destined for landfill sites.
For an organization striving to recycle and reuse goods in support of a sustainable tomorrow, this fast fashion dynamic is concerning to Goodwill Industries. As such, CEO Michelle Quintyn is excited to partner with Fanshawe researchers and Fashion Design graduate Carmina de Young in this micro-manufacturing project underway at Goodwill's Centre for Social Enterprise and the Environment on White Oak Road. "Working together, we're incubating a viable business model that aims to restore textile, design and apparel manufacturing back onshore, which is great news for our local economy and the global environment," notes Quintyn.
According to Fashion Design professor Jennifer Wright, the project is determining the best positioning of work centres, machinery and equipment in order to maintain an efficient and balanced material output. "Through the study and analysis of apparel engineering and work flow, our research results and identified best practices are enabling Carmina's company to expand its micro-production services to other small enterprises, so they may also produce small lots of fashion designs. This is a win-win, as our recommendations are providing her manufacturing operation with the scalability and sustainability needed to grow and prosper."
Fellow professor and researcher Meredith Jones agrees there is a place for apparel design and production that is sustainable, environmental, inclusive and Canadian, "Through this study, we have generated an innovative approach to the Canadian market and a customized handbook enabling garment micro-manufacturing to succeed. This cannot be done overseas - it requires a nimble model that is close to home and hands on. And, we are thrilled with these outcomes."
Just like earlier consumer response to the food industry's "buy local" messaging, the creation of small local brands in fashion apparel is becoming more relevant, as community-based businesses are more able to respond to local market needs. Meantime, investing in fewer, yet higher-quality, clothes actually saves the consumer money because each piece lasts longer.
The fact that people are now seeking Canadian-made products is most encouraging to designer entrepreneur Carmina de Young. Reflecting back on her first two years operating a startup with a social purpose, de Young cherishes the support of her mentors and business partners. Every day, she works hard to build an apparel industry in our community, employ people in our locality, help fellow designers find success, and create her own Carmina de Young small-batch fashion collection.
"Our clients want to know their garment purchases promote sustainability and community, without sacrificing quality and comfort," observes de Young. "That's why we focus as much on people and the planet, as we do on profit – ensuring all our business decisions consider the impact we are having on our community and the earth."
For more details about Carmina de Young, check out https://carminadeyoung.com. For information about Fanshawe's Centre for Research and Innovation, visit www.fanshawec.ca and see Goodwill at https://goodwillindustries.ca.