Welcome to Fanshawe's English Language Institute (ELI)!
If English is not your first language, we are here to help you gain the language and academic skills needed to be successful in post-secondary career programs. We welcome students from all over Canada and the world. The ELI has different ways to help set you up for success:
English for Academic Purposes (EAP) program:
In your EAP program, you will study reading, writing, listening and speaking with students from all over the world. You will also learn more about Canadian culture and history. While time spent learning English inside the classroom is very important, it's also important to learn about Canadian culture and learn English outside of the classroom. We help arrange volunteer activities in London for you to participate in. The ELI also arranges field trips in London and around Ontario to help you practice your English outside of the classroom and learn more about Canadian customs and culture while enjoying the beautiful scenery and surroundings. Our highly qualified and experienced faculty and staff in the ELI will help set you up for success in your post-secondary (college or university) career programs.
Academic support for International students in post-secondary career programs:
The ELI also offers language and cultural supports to non-native speakers of English who are already in post-secondary career programs at Fanshawe College. We can help you with a variety of skills: pronunciation; oral and written communication; career-specific vocabulary; professor/student expectations; cultural differences relating to academic integrity; Canadian academic culture; Canadian email etiquette, etc.
Teaching English as a Second Language (TES):
If you have a passion for teaching and would like to learn more about teaching students whose first language is not English, we have a program for you. Our graduate certificate TES program teaches teachers the pedagogy, theory and practice necessary to be an outstanding ESL teacher.
If you would like more information about the English Language Institute, or how we can help you be a successful English language learner, please contact us. Let us help you achieve your goals!
Kristibeth Kelly
Associate Dean, English Language Institute
About Kristibeth Kelly: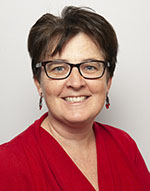 Kristibeth has her Honours BA, BEd, and ESL Teacher Specialist qualifications from Western University. She has a MEd in curriculum, teaching, and learning from the Ontario Institute for Studies in Education at the University of Toronto. Kristibeth has been working at Fanshawe for over 12 years as a professor, coordinator and now Associate Dean of the English Language Institute (ELI). She has a passion for supporting students and professors in achieving their best. Kristibeth has taught English and trained English teachers all over the world, including China, Pakistan and Poland and has traveled to over 20 countries.
Kristibeth enjoys learning about different cultures, languages and people from all around our beautiful world. She loves helping students succeed in acquiring language acquisition skills needed to pursue their educational and career goals. When Kristibeth is not working, she enjoys singing in a community choir and playing with her small son.