Professor, Lawrence Kinlin School of Business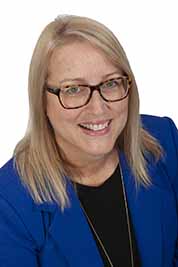 Laura has a passion for education and truly enjoys working with students. She started teaching at Fanshawe in 2008, and is currently a professor in the Lawrence Kinlin School of Business where she instructs courses in management, leadership, entrepreneurship and human resources. Having recently completed a Masters degree in Leadership at the University of Guelph, and a Masters Online Teaching Certificate with the University of Illinois, Laura has gained an updated business education along with best practices for applying current teaching technologies to meet the needs of today's students.
With a broad business background in human resources, retail and commercial banking, Laura has a variety of experience to draw on. She has also owned and operated several successful businesses and has spent over a decade coaching and consulting. She is currently a volunteer mentor with Futurpreneur Canada.
Contact Information:
Laura Radtke, BSc (Hons), MA
Professor
Lawrence Kinlin School of Business
T: 519-452-4430 | F: 519.659.9522
lradtke@fanshawec.ca
www.fanshawec.ca