Researchers: Prof. Amneh Kalloush and Dr. Solomon Asantey
Partner: Prestressed Systems, Inc. (PSI)
Contributor: Lafarge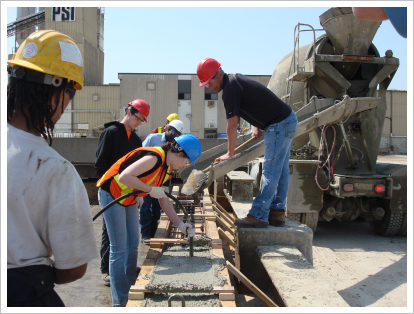 This project investigates ways of increasing the strength and durability of concrete used in building and transportation structures. It involves training students in the design and workmanship skills needed to improve strength and durability of concrete through experimentation.
Since 2010, student team members have been entering the yearly Precast/Prestressed Concrete Institute's (PCI) Big Beam Contest, competing against other colleges and universities across Canada and the United States.
The objective of this competition is for university and college student teams to design and construct a 15' pre-tensioned concrete beam, and then test its strength and durability while accounting for economy and safety.
In 2013, students in Fanshawe's Civil Engineering Technology program participated in the annual competition, winning first and second in their zone.
Funding for this project has been provided by NSERC and CONII.