Researchers: Prof. Amneh Kalloush and Dr. Solomon Asantey
Partner: TRY Recycling Inc.
Contributor: Lafarge
Left to right: Amneh Kalloush, Rick Vandersluis (TRY Recycling) and Solomon Asantey.
London's TRY Recycling Inc. approached Fanshawe College to find new markets for recycled goods within the building industry. Fanshawe and TRY Recycling collaborated on a research and development project that tested the use of recycled glass and shingles as a concrete additive.
Fanshawe's School of Building Technology undertook the project in early January of 2013 with a team of two faculty members and three student researchers.
Investigators tested the theory that glass could be substituted for a portion of the solid matter currently used in concrete production. As a substitute for aggregate and sand, glass has shown promising results. Their findings encouraged researchers to engage in further exploration into other potential alternatives to sand, such as recycled shingles.
Fanshawe's research into adopting alternate recyclables as concrete aggregates has impressive implications for both the recycling and construction industries. This research has the potential to reduce our dependence on mined aggregates for new construction projects as well as opening up new markets for recyclable materials.
The student collaborators presented their research at Fanshawe College's 2013 Student Research & Innovation Day, where they took home first prize.
Funding for this project has been provided by NSERC and TRY Recycling Inc.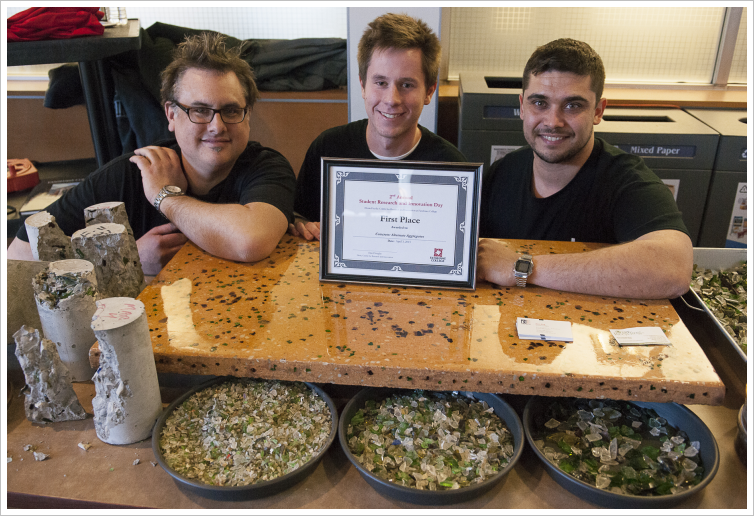 Student collaborators Jason King, Lukas Grabowski, and Ricardo Mariano.