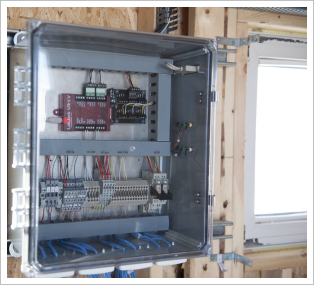 Prof. Kerry Traynor, Prof. Rob Darling, Prof. Louis Jraige, Prof. Martin Volkening and Prof. Steve Ries
Partner: Centennial Windows & Doors
Centennial Windows & Doors approached Fanshawe College to collaborate on a project to maximize the performance of window systems that are installed within an exterior building envelope.
The project's primary objective was the creation of a solar shading methodology that maximizes the window's performance by reducing solar heat gain in the summer months and allowing for solar heat gain in the winter months, without compromising overall functionality.
Using a Fanshawe-owned testing facility, researchers are able to track and log real-time data from the window installations. Researchers will collect, summarize and analyze the data in a presentation to Centennial Windows and Doors.
Funding for this project has been provided by NSERC and Centennial Windows & Doors.