Researchers: Dr. Ke Liu and Dr. John Makaran
Partners/Collaborators: Otterville Custom Golf Carts, Thames Valley Golf Course, Deer Run Golf Course, London Golfland, City of London's Parks and Recreation Department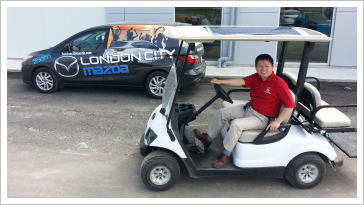 Researchers from Fanshawe College's Centre for Sustainable Energy and Environments (CSEE) have developed a solar power charging kit for small utility vehicles. This kit eliminates the need for frequent recharging throughout the work day, saving the consumer both time and money. In partnership with Otterville Custom Golf Carts, researchers have been able to extend battery life by 15 to 20% under continuous use conditions.
The first commercialized unit (in photo at right) is currently being employed at London City Chrysler.
Funding for this project has been provided by NSERC, CONII and Otterville Custom Golf Carts.