Researchers: Prof. Martin Volkening, Prof. Robert Darling and Prof. Tom Davis
Partners/Contributors: 3M Canada, s2e Technologies Inc.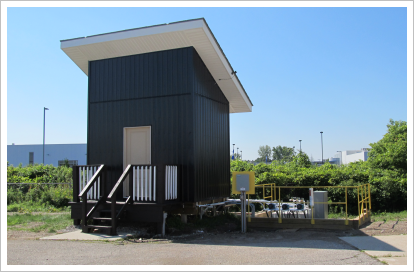 With no current technology that connects various sustainable energy platforms under investigation, researchers at Fanshawe College decided to address this gap in knowledge. In partnership with 3M, a team of Fanshawe faculty and students are working to identify a 'plug and play' technology that will integrate and implement energy platforms being evaluated.
This project explores the feasibility of a solar heating and cooling process, which uses hydronic loops to supplement a building's energy requirements. In conditions where less solar energy can be collected, researchers will test the use of low voltage ground source heat pump technology as an alternate power source for these systems.
Using a Fanshawe College owned and operated site, researchers were able to construct a testing facility which incorporates ground source heat pumps, energy harvesting, as well as solar thermal and photovoltaic applications. Data from the UHEAT module is collected and tabulated for analysis against baseline tested environments.
Funding for this project has been provided by NSERC and s2e Technologies Inc.