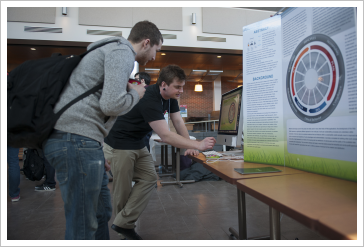 Much more than a feel-good pursuit, integrating sustainable practices gives organizations a competitive advantage by increasing operational efficiency and reducing costs, raising productivity and employee retention and building goodwill and loyalty with stakeholders.
"Sustainability has emerged as one of the most important concepts of our time and is relevant to organizations of any type, size and sector," says Sandra Tavares, principal of Tavares Group Consulting, a London-based corporate social responsibility firm. "The appetite for integrating sustainable practices is growing. However, while there are a number of sustainability data management software products that provide users with the ability to track sustainability metrics, a lack of guidance on the process of planning and implementing a sustainability goal or action plan has left many organizations asking, 'Where do we begin?' or 'Where do we go from here?'"
Tavares set out to answer those questions by developing a Sustainability Toolkit, an innovative product she hopes will expand her portfolio. Informed by extensive research and the input of "toolkit ambassadors" from a wide-range of industries, the product is comprised of a 20-page guidance document and a spreadsheet-based action plan and assessment tool that gives organizations an in-depth framework to plan, implement and monitor their efforts. It follows a 13 - step process that draws on proven principles and frameworks to lay out a pathway to integrating sustainable practices in all aspects of their business, from customer service to supply chain management.
Last summer, recognizing the limitations of a spreadsheet-based action plan and assessment tool, Tavares partnered with the applied research and consultancy arm of Fanshawe's School of Contemporary Media (called Reactr) to develop an engaging and interactive online dashboard and portal that will bring the toolkit's functionality and user experience to a whole new level.
"Our primary goal is to make sure the toolkit is engaging for the user, encouraging them to move onto the next step," says Tavares. "That's how we will keep the fire alive and advance sustainable initiatives-not through simple data entry on a series of forms." A pair of students and faculty began working on the project in January, completing the framework and functionality in time to unveil the online toolkit on March 18 during Fanshawe's annual Research and Innovation Day.
Rob Haaf, coordinator of Fanshawe's Interactive Media Design and Production program and head of Reactr, says the team focused on engaging users by incorporating elements of "gamification" into the design, which gives the users tangible feedback and shows progress, such as flowers representing each criteria growing and multiplying as criteria are completed.
"This has been a great opportunity for our students to put key theories and practices covered in the classroom to use while delivering results that help businesses pursue innovative ideas," says Haaf. "Building a client-based portfolio is invaluable when seeking careers in the digital media industry."
Christopher Robins, one of two students to work on the project, expects the hands-on experience he gained - problem solving and learning new computer programming techniques in developing the back-end framework - will be a catalyst for his career.
"This has been a great opportunity for me to gain valuable, marketable programming skills in an industry environment," he says. "I really think this experience will translate into a job because it has involved skills that are very sought after in the field."
Pleased with the results, Tavares plans to continue working with Fanshawe over the coming year on the next level of development, focused on building out the reporting capabilities to give users options of how they want to visualize their results. The toolkit is expected to be market ready in spring 2016.
View the original article as it appeared in Business London Magazine.