Romy Goulem, Co-ordinator/Faculty
An Independent Filmmaker and freelance Director, Cinematographer & Editor, Romy spent over 20 years working in the Film and Television Industries out of Montreal and Toronto before moving to London to teach in AFM.
As a freelancer, Romy worked with some of the top Production Companies in Canada and has seen his work broadcast on CTV, CBC, MuchMusic, The Life Network, Discovery (Can, US, UK, France), Vision TV and Slice.
As an Independent filmmaker, his films (including two features - The Drive and The Tar Ponds Loonie Give-Away) have won awards and been screened across the country and around the world at festivals, in cinemas and on Television. Romy began his teaching career in 2006 when the Advanced Filmmaking Program at Fanshawe College first opened its doors. Along with the AFM courses that Romy offers in Cinematography, Screenwriting and Directing, he also teaches Video Production in the Television and Film Production Program.
A graduate from Ryerson's School of Film and Photography, Romy earned a Bachelor of Applied Arts, specializing in Cinematography, Editing and Still photography. Romy is thrilled to be sharing his love of Cinema and his passion for Filmmaking with the next generation of young filmmakers.
Adamm Liley, Faculty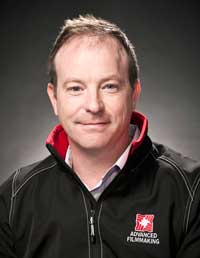 A filmmaker, producer, director and cinematographer, Adamm has written and produced segments for This Hour Has 22 Minutes, directed half-hour specials for the Trailer Park Boys and worked on various film and television projects for CTV, Showcase, Vision, the Discovery Channel, Global Television, the CBC and National Geographic. Adamm also worked in various capacities as a valued member of the Trailer Park Boys production team throughout their first 7 successful seasons. He has been awarded two Gemini awards and an International Emmy as a member of the team that produced Street Cents for CBC, a Golden Sheaf Award and a Gemini nomination for his documentary Heads Up and a Best Canadian Documentary award at the 2008 Atlantic Film Festival for That's My Time. This past spring When Dreams Take Flight, a film he co-produced with Sheona MacDonald, received two Canadian Screen Awards for best editing and best writing in the feature documentary category.
Adamm obtained a Bachelor of Arts from the University of Guelph and later graduated from the film production program at Confederation College.
Over the last sixteen years in the film and television industry, Adamm has established himself as a leading writer, director and cinematographer. Along with developing new film and television projects, for the past 6 years Adamm has been a Professor and Coordinator of the Advanced Filmmaking program at Fanshawe College in London, Ontario. During his tenure as Program Coordinator, Adamm and his talented team of colleagues have expanded the program two-fold.
The past couple summers, he was thrilled to re-join the cast and crew of Trailer Park Boys as their Director of Photography. This new batch of 20 episodes (Season 8+9) promises to be some of the funniest for the iconic characters yet! Stay tuned…
Charlie Egleston, Faculty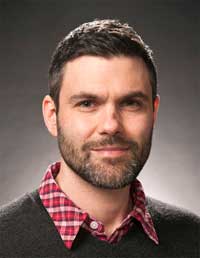 Working in expanded modes of film and video production, Charlie Egleston has been making distinctive films, videos and multidisciplinary work over the past twenty years. His films have been screened nationally and internationally at prestigious artist film venues, including: IFF Rotterdam, Oberhausen IFF, Ann Arbor FF, WNDX FF, and Media City FF among others. Retrospectives of his work have been presented in both the US and Canada, while select film works have been included in group shows throughout North America and Europe.
He is a graduate of the Film Studies program at the University of Western Ontario (HBA) and the Film Production program at York University (MFA), where renowned Canadian film artist, Philip Hoffman, mentored him. A recipient of awards and scholarships that include the Canada Council for the Arts, Ontario Arts Council, Social Science and Research Council of Canada (SSHRC), and numerous teaching awards, he has also held committee, jury and board positions for organizations such as the Ontario Arts Council, London Arts Council, Forest City Gallery and the London Ontario Media Arts Association where he currently serves as a board member.
Apart from his own filmmaking practice he has collaborated with other filmmakers/artists as an editor and cinematographer. He has programmed, provided artist talks, held workshops and advocated screen space for marginalized modes of film production through co-founding the London Canadian Film Festival (2002-08) and founding the London Film and Video Society (1997-2001). His teaching career started at the University of Western Ontario where he enjoyed designing a production curriculum from the ground up and has since moved to Fanshawe College, where he is currently a Professor in the Advanced Filmmaking Program. His film work is distributed by the Canadian Filmmakers Distribution Centre (CFMDC).