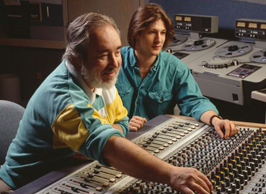 Having mentored and trained many of the industry's leaders across North America, Jack Richardson is an icon in Canadian music. As a record producer, he is perhaps best known for producing the biggest hit records from The Guess Who from 1969 to 1975. The Juno Award for "Producer of the Year" has been named in Richardson's honour since 2002.
Jack Richardson is also a former faculty member in Fanshawe's Music Industry Arts program, Richardson inspired students to be knowledgeable and ahead of emerging trends and technologies in the music industry. Richardson's lifelong involvement with music has shaped the successful careers of many including producers Stu Brawley and Kevin Doyle; television's Survivorman star, Les Stroud and singer-songwriter Emm Gryner.
Fanshawe's Music Industry Arts (MIA) students, with the assistance of professors Terry McManus, Steve Malison and Mike Roth, presented a special evening celebrating the legacy of the late Jack Richardson, Canadian music icon and Fanshawe College professor.