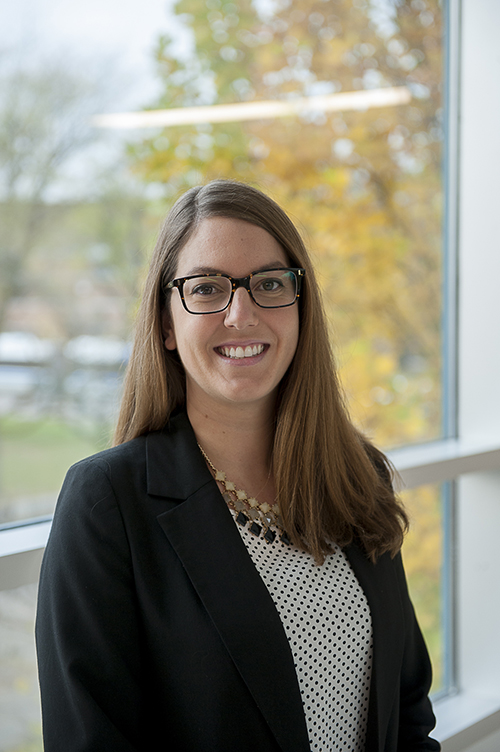 Meghan Mastronardi
Meghan holds a Master of Interior Design degree, along with a Bachelor of Interior Architecture degree, both from Lawrence Technological University in Michigan.
Meghan has been teaching in the Interior Design program at Fanshawe College since 2011 and also currently serves as the Program Coordinator.  She taught previously in the Interior Architecture program at Lawrence Technological University. 
Meghan is an NCIDQ certified Interior Designer, a LEED Accredited Professional (AP), and is a professional member of ARIDO, IDC, IDEC, and ACEID.
Meghan has worked with several prominent Architectural and Design firms on projects throughout North America. Her experience in commercial interior design has a strong focus on hospitality design and sustainable design.  She has completed restaurant, bar, and hotel projects for clients such as MGM Mirage, MGM Grand, Westin hotels and more, many of which are LEED certified.
Meghan's areas of interest and specialty include design education, hospitality design, sustainable design, and materials. 
Dr. Angela Bourne, PhD., M.Sc., M. Ed, IDC, ASID, IDEC, EDRA
Dr. Angela Bourne is an Interior Design educator/researcher with over 25 years of teaching and practical design experience. Her research and teaching pedagogy reflects her conscientious approach to developing effective and socially sustainable environments. The pragmatic approach she uses in the classroom and to conduct research is supported by her belief that the design process is about people. She feels that in order to be an effective and responsible designer one needs to acknowledge the individuals needs of each person or group of people they are designing for. Angela holds a PhD in Environmental Design with a research trajectory in Neuro-Architectural Design. Currently she is building her research repertoire and has published works and presented at conferences globally on how interior and environmental design can enhance ones well-being. Her professional goal is to help bridge the gap between theory and practice and thereby create and sustain new pathways for the development of socially responsible design.
Dale Landry
Dale Landry holds a Master of Science degree in Architecture with a Specialty in Interior Design from the University of Nebraska and a Bachelor of Interior Design from University of Manitoba.
Dale has been a full-time professor in the Interior Design Program at Fanshawe College since 1986 and has served as the Program Coordinator for two years during that time.
A registered Interior Designer with ARIDO since 1987, Dale has practiced Interior Design since graduation from U of M and stayed active while teaching. Dale specialized in restaurant design but has completed projects in many areas of residential and commercial design across Canada. Dale has a working knowledge of the Ontario Building Code due to the scope of her past design work and has collaborated with other Interior Designers, Engineers and Architects on her projects.
In 2008, Dale concentrated on her Masters degree studies and is now an ARIDO educator member. Dale acquired her NCIDQ certificate in 2008. Dale is a member of Interior Designers of Canada (IDC), Interior Design Educator's Council (IDEC) and the Canadian Green Building Council (GAGBC).
Dale would say that she is an artist first. Dale is a creative individual that also has the technical skills required in the Interior design industry.
Natalie Rowe
Natalie joined the School of Design at Fanshawe College in 2003. She is a Master of Interior Design (MID) graduate, studying at the University of Manitoba, in Winnipeg, Canada. Her thesis topic was entitled 'Non-Family Caregiver Perspectives on Current and Future Alzheimer Care Facilities in London, Ontario' (click here for research info).
Natalie has an undergraduate Bachelor of Interior Design (BID) degree from Ryerson University, School of Interior Design, in Toronto.
She has worked in practice across North America, primarily in the disciplines of corporate office and healthcare design. Currently her areas of specialty include interior design, interior design education and evidence based design.
She is the Chair of the Alliance of Canadian Educators in Interior Design (ACEID) and has served on the board of directors since 2010.
Natalie is NCIDQ certified and is a member of IDEC, IDC, ARIDO, EDRA, ACEID.