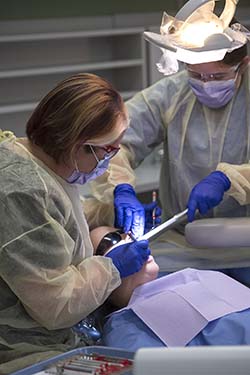 How long has it been since your last dental exam and cleaning?
If it has been over a year, you've come to the right place. Fanshawe's dental hygiene students are fully trained and equipped to assist you in improving your oral health. Supervised by Registered dental hygienists and dentists, our clinic provides the highest quality of comprehensive oral care. The best part? Service costs are significantly reduced since we are a teaching facility.
For over 25 years, the Student Clinic has offered Fanshawe's Dental Hygiene Program students the opportunity to develop their skills with hands on clinical experiences.
Services include:
Complete Examination: Intra and extra oral assessments.
Full Mouth Cleaning: Removal of plaque and calculus.
Home Care Instruction: Caring for your mouth the right way on a daily basis is vital. We will work with you to show you how.
Individualized Care: All treatment is client centred; client needs are addressed in a professional and competent environment.
Fees:
Costs range from $40 to $120 depending on services required. A cost estimate can be provided following examination.
Call to book an appointment today:
519-661-2111 ext. 80535.
Operating hours:
Morning, afternoon and evening appointments available depending on the semester. Note: Each appointment takes approximately 3 hours and multiple appointments are usually required.
Location:
Schulich School of Medicine & Dentistry, Dental Sciences Building, Western University.
Thank you to each of our clients who are committed to supporting student growth and success!