Become a Personal Support Worker (PSW) in just six months!
Fanshawe is pleased to offer a new accelerated PSW program to help fill the demand for more personal support workers. Graduates of this two-level program will earn an Ontario College Certificate and deliver tremendous care to some of the most vulnerable people in our community.
Accelerated program highlights:
Funding provided to cover tuition and expenses such as textbooks and other supplies;
A condensed schedule so you can graduate in only six months (two 12-weeks levels for a total of 24 weeks);
Blended delivery that combines online learning with in-person practical experience;
Students may volunteer at long-term care homes and other settings early in the program;
A paid work placement available in the final three months of the program;
Offered across multiple campus locations for your convenience.
Intakes available:
All intakes of PSR1 are now closed.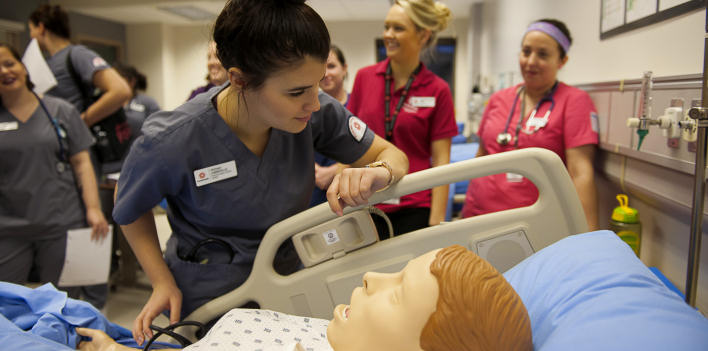 Program description
You'll begin the program by creating a strong foundation in the fundamentals of personal support. You'll learn about health and wellness, the human body and how it functions, along with examining mental health issues and life transition theories.
In addition to classroom instruction, you'll also complete placements where you'll get valuable experience providing care to clients. This means that you'll begin your career with a highly developed set of experiences to draw on as you enter the workforce.
| | |
| --- | --- |
| Credential: | Ontario College Certificate |
| School: | Fanshawe College, School of Nursing |
| OCAS code: | PSR1, PSR1C, PSR1J, PSR1S, PSR1W |
| Length: | 12 weeks in class, 12-week placement |
Admission requirements
OSSD with courses from the College (C), University (U), University/College (M), or Open (O) stream
OR
Academic and Career Entrance Certificate (ACE)
OR
Ontario High School Equivalency Certificate (GED)
OR
Mature applicant with appropriate preparation.
Tuition and fees
As outlined by the Ontario government, the PSW accelerated program will cover students' tuition and compulsory ancillary fees. Students will not directly receive these funds; their account will be credited for the amount that is applicable.
Funding will cover*:
| | |
| --- | --- |
| Full tuition + ancillary fees (excluding OCAS $95 fee) up to $4000 | |
| Supplies (books, uniforms, etc.) up to $1500 | |
| Other (immunizations, transit, daycare, etc.) up to $600 | |
| Paid placement | |
* For Canadian students enrolled in Personal Support Worker (Accelerated) intakes beginning April 5, May 10, June 14, 2021.
Courses
There are 14 mandatory courses in the program, offered across two 12-week levels.
Careers
Graduates are employed in long-term care facilities, retirement homes, hospitals and community agencies. PSWs work with clients who are stable and who have clearly identified needs that are not expected to change significantly. They work under the supervision of care/service teams (which include nurses and other regulated or non-regulated care providers) as well as under the direction of the client.
Practicum
The PSW clinical courses are designed to allow the student to synthesize all learned theoretical and laboratory information gained throughout the PSW program and are designed to be taken sequentially.
Learn more about the practicum >
Additional PSW programs at Fanshawe
Fanshawe offers a variety of program delivery options to suit your needs:
FAQs
How do I apply to the program?

Candidates apply for the PSW-Accelerated through the OCAS portal: ontariocolleges.ca/psw (English) or collegesdelontario.ca/pssp (French).
When will the program start?

The first cohort will start on April 5, 2021 with a second and third starting May 10, 2021 and June 14, 2021. The last cohort will finish the program by the end of December 2021.
Will students directly receive any funds for their tuition award?

No, their account will be credited for the applicable tuition amount including compulsory ancillary fees for this program.
Which students are eligible for a PSW or PSW-Accelerated tuition award?

Winter 2021 in-process PSW students will be eligible for a $2,000 tuition award (in addition to paid placements in Ontario).

Summer 2021 PSW-Accelerated students (with the exception of international students) in one of the three cohorts listed above, will be eligible for a tuition award equivalent to total tuition costs and compulsory ancillary fees up to a maximum of $4,000.

Fall 2021 PSW students will be eligible for a $2,000 tuition award.
Which students are eligible for paid placements?

In-process PSW students from the winter 2021 semester and PSW-Accelerated students from the summer 2021 will have access to paid placements.
What is the difference between the PSW-Accelerated program and the regular PSW program?

Students in the PSW-Accelerated program will graduate with full credentials within six months. The standard PSW program at Fanshawe College takes two semesters to complete.
Are international students eligible for the PSW-Accelerated program?

International students are not eligible for the financial supports associated with this program, including the paid placement, but can enroll if they self-fund. View the traditional Personal Support Worker program to access upcoming intakes open to international students.
Can out of province students participate in the PSW-Accelerated program?

Yes, but a condition of the PSW-Accelerated program is that all students must complete their paid placements in Ontario.
Are Personal Support Worker-Accelerated students eligible for OSAP?

Colleges Ontario is seeking confirmation from Ministry of Colleges and Universities.