Meet the Fire Inspection and Fire Safety Education faculty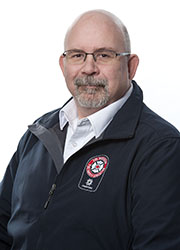 I have been actively involved as a professional in the field of fire and life safety for over 25 years, most recently as chief fire prevention officer with St Catharines Fire & Emergency Services. Over the course of those 25 years I also served as a communicator, a fire prevention officer, a chief fire prevention officer, a professor at Algonquin College and a regulatory representative with Underwriters Laboratories – a global certification, testing and standards development company.
During these 25 years, I earned a Fire Prevention Officer diploma from the Ontario Fire College and hold certifications or designations in Fire Prevention and Inspection, Fire and Life Safety Education, Fire Investigation, Public Information and Community Emergency Management. I have also been a member of the Canadian Fire Alarm Association (CFAA - Director), Canadian Association of Fire Investigators (CAFI - chapter director), International Association of Arson Investigators (IAAI), Ontario Building Officials Association and Ontario Municipal Fire Prevention Officers Association.
Through these associations and my role as a fire safety professional, I have also contributed to code changes in both National and Ontario Fire and Building Codes along with several ULC National Standards of Canada in the area of fire life safety components and systems. I continue to serve on the ULC CAN/ULC-S588 committee and the Standards Council of Canada CAC/ISO/TC 59/SC16 - Accessibility and Usability of the Built Environment and SMC ISO TC145 Graphical Symbols committees.
As a firm believer in the 3 Lines of Defense for today's fire services, I firmly believe fire departments will continue to place more emphasis on fire prevention and fire safety education in the future.
I am very excited to lead a unique program that has been greatly anticipated by the fire service community. I look forward to the challenges and opportunities this program creates, not only for me, but for the students enrolled in the program. We have assembled an expert team of practitioners and educators to ensure our students receive an outstanding education here at Fanshawe. We are thrilled to deliver this first-of-its-kind program in Ontario, working closely with our students and assisting them in their pursuit of higher education and their career objectives.
Our goal is to see our graduates become future leaders in the field of fire prevention, inspection and fire safety education in either the public or private sector.
Corrine Rahman is a professor at Fanshawe College where she teaches courses in Leadership, Ethics, Negotiation and Conflict Resolution.  She holds a BA Honours in Communication Studies and a BA in Political Science from the University of Windsor and an MA in Leadership Studies from the University of Guelph.
Additionally, she holds a post-graduate certificate in Human Resource Management and has completed courses in Mediation and Negotiation. 
She has served in various leadership roles in the non-profit and public sector. She is an active member of the board for Mainstreet London and a committee member for the Thames Valley Parent Involvement Committee. 
She currently serves as the West Regional Lead for the Justice of the Peace Appointments Advisory Committee.
Andrew Whitford has been a police officer with the London Police Service for 26 years and a police sergeant for the past 14 years.
Over the years, he has spent time working on patrol, homicide investigations, crime analysis, computer forensic analysis, and fraud investigations.
Andrew has a B.A. in History from Western University and will graduate from Michigan State University in May 2018 with his Master of Science Degree in Law Enforcement Intelligence and Analysis.
Andrew has been teaching at Fanshawe College over the past three years in the Police Foundations, Public Safety Fundamentals, and Fire Inspector programs. 
Gillian Boyd is a certified fire prevention/public education officer with the Town of Caledon Fire & Emergency Services.
Gillian started her career with the Fire Service in 1994. She has a certificate in Fire Service Leadership as well as Fire Service Administration. Her portfolio includes the role of an alternate community emergency management coordinator and represents the department on many localized and regional committees.
Staff Sergeant David Hadubiak joined the Royal Canadian Mounted Police (RCMP) in May of 1986 and is still a serving member of the RCMP. He has been stationed to a number of posts in Canada starting his career in the province of Nova Scotia and now serving in the province of Ontario. He is currently in charge of the Technological and Digital Forensics Crime Unit of the RCMP for the province of Ontario.
David was awarded the RCMP Long Service Medal for achieving 20 years of service as well as the Silver Clasp for continuing service over 30 years. He was also awarded the Queen Elizabeth II Diamond Jubilee Medal in 2012 in honour of significant contributions and achievements by a Canadian.
David teaches Public Safety in Canada as well as Technical Writing.