What are graduates of our culinary arts programs programs saying about Fanshawe? 
Fanshawe's culinary arts programs continually graduate students who are high-performing and ready to hit the ground running in the world of culinary arts. Their careers take them to the hotel industry, health care and world-class kitchens, cafes and butcher shops and renowned restaurants. 
Paul Paschink, RSE
Executive Souse Chef, Four Points by Sheraton Hotel (London, Ontario)
"I was lucky enough to qualify for the Ontario government Second Career Program when laid off from my previous job of over 20 years. Even better than that was coming across the Culinary Management program and the wonderful staff at Fanshawe College. Right from the start, they made me feel comfortable in my choices, and I knew I had made the right decision. 
The chefs, technicians, and instructors are each the 100% top in their field and you couldn't find a better program in the country! Everyone at Fanshawe genuinely wants to help you succeed and they consistently go above and beyond in that effort. The program was challenging, and at the same time very exciting! The lessons are very well planned and presented, and information and techniques are always being updated to reflect the most recent developments in the culinary industry.
I was able to obtain immediate employment upon graduation and I haven't looked back since. Fanshawe College made it possible for me to obtain my Red Seal Endorsement and transition into a brand new career in an industry that I had never worked in before.  Today, I am proud to say that I am the Executive Sous Chef at one of the finest hotels and conference facilities in the area."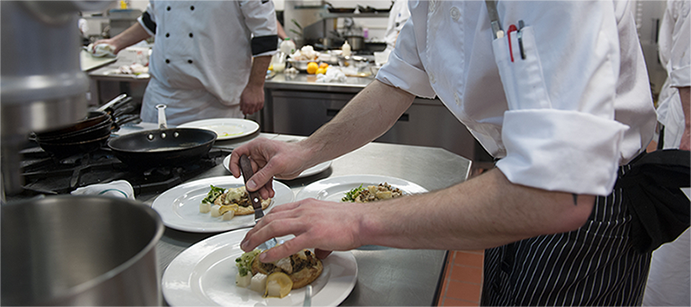 Madison Grech 

 
Food Service Supervisor, St. Joseph's Health Care
Graduate, Nutrition and Food Service Management
"I can't speak highly enough about my time and studies spent at Fanshawe College. The Food and Nutrition management course offers a wide range of opportunities for career choices with both experience in culinary and clinical fields. As well as the professors are very approachable, educated, and help support you beyond graduation. 
My current role is a Food Service Supervisor for St. Joseph's Health Care, where I get to work at both a long term care setting and a hospital setting. I love how every day there is something new and I am always learning and growing my skill set. I also love that I get to have patient/resident encounters and can provide for them during their stay. Food is very important in many different ways and it is something people look forward to so knowing I have a hand in providing that brings me gratitude daily!"
Tom Helm
Lead Meat Cutter, BJ's Country Market
Graduate, Professional Butchery Techniques
"The unique butchery program at Fanshawe prepared me well for my role as Lead Meat Cutter at BJ's Country Market. As a butcher, I sell amazing meat from around the world including Certified Island Beef from Prince Edward Island, gorgeous lamb from Millgrove Ontario, local homegrown free range chicken, beef dry aged in store, and even A-5 Wagyu Beef from Tokyo, Japan! Since graduating from the program, I have generated dozens of new products including fresh meat cuts, cured, smoked and prepared meats, and have introduced new presentations for existing products, giving customers fresh and exciting eating experiences. 
Every day, I am rewarded by customers who are thankful to discover and understand products, and create a meal experience they can be proud of."
Hannah Hickmott
2019 Graduate, Baking and Pastry Arts Management
Gold Medalist, Skills Ontario Culinary Arts Competition
Bronze Medalist, Skills Canada Culinary Arts Competition
"Fanshawe gave me the building blocks I needed to kickstart my career as a pastry chef. I went in eager to learn more about the trade I had a passion for and came out with skills ready to tackle the culinary world. Learning from and working with some fantastic chefs was an absolute joy, and the new campus was an amazing place to learn and thrive in. I'm so thankful for the opportunities I was given while studying and continue to use what I learned at Fanshawe everyday."
May Halbouni
Pastry Chef
Graduate, Baking and Pastry Arts Management
"I was a bit nervous to go back to school as an 'older student', but from day one I became part of a team of amazing students, most of whom travelled from all over the world to take part in this program. I was very grateful to learn from many dedicated and talented Chefs who shared with us their years of experience, expertise and love for baking. I am now more confident in my own baking skills and look forward to a new chapter in my baking journey."
Katherine Klar
Owner/Baker, Union Block Bakery
2017 Graduate, Baking and Pastry Arts Management
"I often think about the journey we took building Union Block Bakery and how much the courses included in the Baking and Pastry Arts Management program at Fanshawe helped me navigate the process. Each step was covered in the program curriculum from designing our commercial kitchen, making equipment acquisitions, designing our logo and marketing plans, to and including recipe development, safe food handling procedures, development of supplier relationships, purchasing, hiring and production planning. I am grateful to all the instructors for sharing their expertise and support."