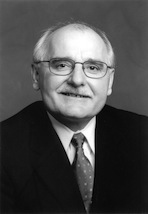 Name: Nick Perpick
Graduated : Hotel & Restaurant Management Alumni, 1972
What are you up to now?
President, COO, Partner of Prime Restaurants of Canada Inc.
Owner and President at Prime Restaurants a company that owns 165 restaurants across Canada including East Side Marios, Casey's, Fionn MacCool's and more.
What drew you to this career?
I've been involved in the hospitality industry all my life, primarily with the full-service restaurant side, but also with hotels, resorts & nightclubs.
How has your Fanshawe College shaped your life?
It was a very happy and rewarding time in my life. Fanshawe has contributed to my life and person in many ways. When I was there, I set myself up with  a couple of mentors who I've kept in touch with over the years and this has been very beneficial.
What was the highlight of your experience at Fanshawe?
One of my best experiences included the completion of a project done in our final year. We had to develop a restaurant concept, working with design students and other faculties to put together a business plan for a restaurant. I have drawn on many things throughout the years that I learned at Fanshawe especially from this project.



  Name: Randy Zupanski
Graduated: Hotel and Restaurant Management Alumni, 1982
What are you doing now?
Currently, I am the General Manager of a new hotel in Downtown Vancouver. It is a Fairmont Deluxe 5-Star hotel located on the water, opening up in January 2010 right before the Olympics.
Why did you choose this career?
I love interacting with people. Also, this is such a diverse industry with so many different options; often, you have multiple businesses operating under the same roof and in a hotel everyday is different. Also, there are so many opportunities to see the world!
What do you most enjoy about your job?
People! The best parts of the job are the relationships you build and the amount of people you meet on a daily basis.
What piece of advice would you give a student entering Fanshawe College?
Success will come to those who truly enjoy the service industry and daily interaction with customers. It is hard to succeed while just going through the motions. At the same time understand that it will also take a big personal commitment on the front end to learn and progress. The educational side gets you in the door. The rest of your success will come through hard work and an ongoing commitment to guest, employee and ownership satisfaction.
What was your biggest learning experience while at Fanshawe?
I came away with a much better understanding of the level of expectations in the hospitality industry. The teachers were industry professionals and provided a real life perspective on what was required to succeed in our industry.
What is your name?
Kurt Lis 
Graduated:   
Hotel Management 2001 Food and Beverage Management 2002 Concierge Services 2004
Where and what are you doing now? 
Currently, I work at Queen's Landing Hotel which is a part of the Vintage Hotels in Niagara-on-the-Lake.  My current position is Chef Concierge/Guest Service Manager and member of Les Clefs d'Or. 
What drew you to this career?
I have a great passion for hospitality and guest satisfaction.  In my role, I get to interact and meet a variety of world travellers which enriches my knowledge and understanding of this unique industry. 
How has your Fanshawe College education contributed to your life and person? 
My experience at Fanshawe College shaped and steered me into the person I am today.  I am very thankful to have had the experience I did.
If you knew then what you know now, what if anything, would you do differently?
At times, I wish I knew back then how relevant and applicable the information I obtained would be in my future.  On occasion, I do refer back to some textbooks and class notes if I ever need to think of ways to go above and beyond for guests.
What would be one piece of advice to a student entering Fanshawe College for the first time? 
Don't be scared or overwhelmed.  The Fanshawe staff is there to support you and guide you through any questions or concerns.  It is okay at first if you are unsure of the career path you want to take, everything will fall into place.