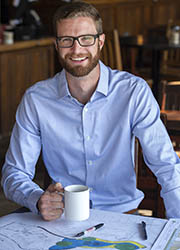 "The combination of technical expertise with theoretical knowledge gave me the skills I needed to enter, and excel in, the world of environmental design immediately after graduation, including landscape architecture, planning and GIS. The degree also provided the opportunity to pursue a graduate degree. The novel approach to learning and the dedicated faculty at Fanshawe were vital to my success upon graduating."
Alex Waffle
Honours Bachelor of Environmental Design and Planning
Pathway: Honours Bachelor of Environmental Design and Planning → Masters of Landscape Architecture, University of Guelph
Current position: Manager of Design, Earthscape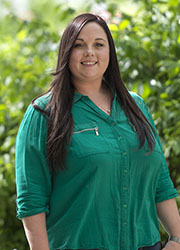 "The professors within this program provided real-life work experiences and technical skills that will be beneficial in my future career. If it weren't for this program, I would not have been selected to receive a scholarship and pursue a Master's Degree in Limerick, Ireland. Fanshawe truly believes in the future success of their students and provides amazing opportunities through their agreements with other universities around the world. I would highly recommend this program for anyone who wants learn in an innovative environment and be encouraged to think outside the box."
Kailey Van Der Spank
Bachelor of Commerce - Digital Marketing
Pathway: Business Marketing Diploma → Business Administration Marketing Advanced Diploma → Honours Bachelor of Commerce - Digital Marketing Degree → Masters of Business in Marketing and Management Strategy, The University of Limerick Institute of Technology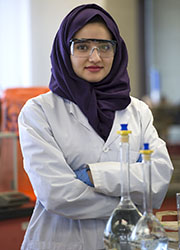 "I chose the Biotechnology degree because it provides me with sufficient knowledge in the field of science and technology while allowing me to acquire excellent laboratory skills. I'm confident this program will enable me to acquire a challenging position in the field of science and research."
Rahaf Alfares
Honours Bachelor of Applied Technology - Biotechnology
Pathway: English Language Studies → Honours Bachelor of Applied Technology – Biotechnology → Masters of Management of Applied Sciences – Specialization in Biology, Western University (in progress)
"The Early Childhood Leadership program really does prepare you well for grad studies. The educational and social justice topics we had discussed in ECL, the ability to critically read academic journal articles and the feedback on papers, as well as the capstone project have set me up to be a solid graduate student. In fact, a moment that I am quite proud of, two of my professors mistook me for a doctoral student based on my ability to present, my perspectives on various topics as well as my writing. For some students in my classes these discussions on issues are the first time they have thought about them. With my background I had already discussed many of the current educational topics and I am well prepared to critique or argue different perspectives."
Maureen Cullen
Honours Bachelor of Early Childhood Education graduate
Currently: M.Ed. student at Western University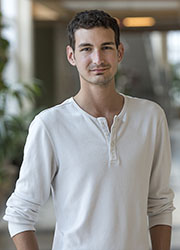 "By combining practice and theory, I am becoming prepared for my career awaiting at the finish line. At the heart of the degree are professors and industry professionals who take the time to ensure your success, and support your creative ventures. I am happy to say, this is my community."
Andrew Zarkovich
Honours Bachelor of Interior Design graduate
Current position: Interior Design Technician, Square Feet Design Group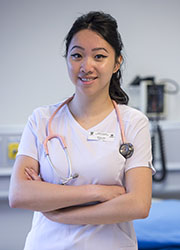 "From classroom to professional practice settings, my professors and instructors were with me every step of the way, and were always encouraging my peers and me to think critically and holistically while we were translating theory to practice in clinical labs and the real world. Not only was the program able to provide me with the knowledge, skills, and experiences that I needed to be the best nurse I can be, but it also presented me with a multitude of leadership opportunities that have opened doors for me and allowed me to explore the many different avenues of this dynamic profession."
Shirley Tran
Bachelor of Science – Collaborative Nursing graduate
Pathway: Highschool → Bachelor of Science – Collaborative Nursing → Masters of Science – Nursing, Western University (in progress)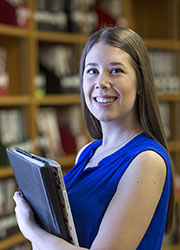 "I can't believe the difference in the version of me who walked into Fanshawe in September 2012, and the version of me who walked across the stage graduating with a Bachelor of Commerce degree in June 2017. While I have learned so much since joining the "real world", I know my experience in the Human Resources Management degree program has prepared me in ways I never thought possible. The environment is one that leaves you wanting to learn, and wanting to be better -- and the staff and professors could not be better mentors and connections to have on your side fighting for your success. While leaving this chapter was difficult, I know I can succeed anywhere because of my degree experience at Fanshawe."
Alyssa Ryde
Pathway: Business – Human Resources Diploma → Human Resources Management Graduate Certificate → Honours Bachelor of Commerce – Human Resources Management
Current position: Human Resources Assistant, Canaccede Financial Group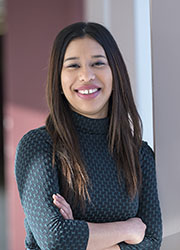 "Taking the Digital Marketing degree was one of the best decisions I've ever made! Classes such as Google Analytics and Finance prepared me for my current position. If I am ever in doubt I know I can reach out to my professors for guidance, they truly care for the students and they want us to succeed. My co-op position allowed me to have the minimum experience that most entry level jobs required and in order to stand out from other applicants, I also got involved in extracurricular activities through my degree such as the Ontario College Marketing Competition and the mentorship program. After graduation, I found a job that was the right fit and I feel really lucky to have this position. I would definitely recommend this program, and Fanshawe in general, to others!"
Gabriela Aquino
Honours Honours Bachelor of Commerce – Digital Marketing graduate
Current position: Marketing Coordinator, TSC Stores LP