Success stories from students who pursued a pathway
Many of our students pursue pathways opportunities every year. Read up some stories of Fanshawe alumni that show how an academic pathway can help you achieve your goals.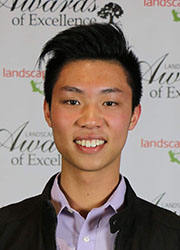 "I chose to continue my studies at the University of Guelph's Bachelor of Landscape Architecture (BLA) program through the pathway program because my goal is to become a certified Landscape Architect and the pathway program was the best and fastest option to achieve my goal. The partnership program allows me to skip relearning the foundations that I already thoroughly practiced at Fanshawe while giving me the opportunity to practice the craft immediately in the BLA program. The [pathways] scholarship supported my education and helped me purchase course materials to excel in the BLA program."
Franco Chan
Landscape Design, Fanshawe College
Bachelor of Landscape Architecture (BLA), The University of Guelph
"Fanshawe has allowed me the opportunity to transform my lifelong 'passion for fashion' into a practical, business-focused vocation. I am now studying for an Honours Bachelor of Arts in Fashion Design from the Limerick Institute of Technology in Ireland and am very excited to begin this new step in my journey in the midst of a worldwide pandemic! I am independently paying for my schooling and am extremely grateful for any assistance that helps me to reduce my overall debt and allows me to focus on school."
Kiana Halonen
Fashion Design, Fanshawe College
Bachelor of Art in Fashion, Limerick Institute of Technology, Ireland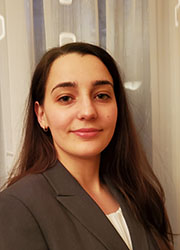 "During my time at Fanshawe College, I was enrolled in the Chef Training Certificate for the first year, then I was able to choose Food and Nutrition Management for my second year. After completing my two-year program, I took three years off school [to work] as a Food Service Supervisor and Nutrition Manager in Long Term Care. In September 2020, I enrolled at Brescia University College for the Honors Specialization in Nutrition and Dietetics Program. Thanks to the articulation program and some university courses I had taken in the past, I was accepted in the third year of the program. The knowledge I gained while studying at Fanshawe has been instrumental to my success in the program thus far. Having that hands-on experience and working in the field has helped tremendously, especially during practice labs. The program at Fanshawe College set me up for a successful career path where I can grow, give back to my community and create a network of successful professionals. The [Brescia program] is accredited by the Partnership for Dietetic Education and Practice (PDEP), which will allow me to write the Registered Dietitian exam in order to become a Registered Dietitian."
Octavia Muresan
Fanshawe programs: Chef Training certificate, Food and Nutrition Management.
Degree program and institution: Honours Bachelor's degree in Nutrition and Dietetics, Brescia University College.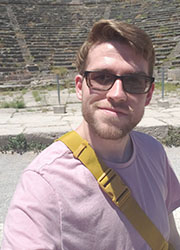 "My experience going from Fanshawe College to Western University was so easy! Yes there was a lot of hard work in the classes I needed to transfer, but they were classes I thoroughly enjoyed which made it easy. The experience of applying for University was made less daunting through the walk-through seminars provided and the meetings with my coordinator and professors. […] The faculty are really engaged in assisting you to your goals and go out of their way to make sure you are doing your best. To prepare for Western, I chose classes which were full year university level credits which would carry over into the first year at Western. With that I decided that I would choose the classes which had most interest to me. That way I know I could get to the GPA I needed to get into the program I wanted."
Cody Bilyea
Fanshawe program: General Arts and Science diploma.
Degree program and institution: Art History & Museum Studies, King's University College.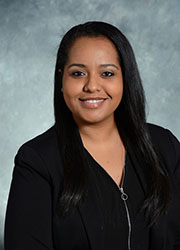 "I'm currently completing an Honors Bachelor's Degree in Medical Biotechnology at IT Sligo in Ireland. It is the best decision I have made! It opened up my world to more possibilities with respect to career opportunities such as employment within the Biopharmaceutical industry, Medical Diagnostics, Research, or Bioprocessing sectors, and so much more. Plus, there is the added bonus of being in Ireland! It truly is a beautiful country. The movies don't do this place justice. […] I found staff at IT Sligo and in the Medical Biotechnology program specifically rose to the occasion in adjusting to new realities and providing an exceptional learning environment. I found IT Sligo to be very accommodating with respect to providing new learning outlets such as online tutorials and third-party virtual lab software to conduct important experiments required to know for the work force. It was different/new but effective.
"Fanshawe has a lot to offer students with respect to pursuing a meaningful career in whatever path one chooses. It is important to work on developing a social network with individuals within the career you are interested in pursuing, it is just as important as maintaining good grades in your program. Professors and [advisors] are a great resource to have for advice on how to develop a well-rounded social network and education during your time at Fanshawe and to find a pathway that fits you."
Miyada Himmat
Fanshawe program: Chemical Laboratory Technology - Science Laboratory advanced diploma.
Degree program and institution: Honours Bachelor's Degree in Medical Biotechnology at IT Sligo in Ireland.
"Using the Fanshawe's pathways system was very helpful. At first there wasn't a pathway setup for my course, but Fanshawe and LIT worked together and formed one for me, and that was truly a blessing. Even after that, I was really taken care of, and was assisted with fitting in smoothly. Before my arrival in Ireland I was educated on things I need, what to bring, and what to expect. I was able to showcase my work to the program coordinator and he also showed me work from other students, which helped me get familiar. Travel was arranged for when I arrived. I was also introduced to some of the international students at campus, which was cool, and had a group made so we can interact, while dealing with the COVID-19 situation. Even over the Christmas Break for some students who had difficulties with either returning home or just didn't go, Buddy Groups were formed so students won't feel alone during this time, which was another great thing done."
Joshua Russell
Fanshawe program: Game – Design advanced diploma.
Degree program and institution: BSc (Hons) in Game Art & Design. Limerick Institute of Technology (LIT), Ireland.
"I attended the [Pathways Fair] that the college offers every year were a lot of colleges and universities come and help aspiring students with continuing their education and help them with transferring options. I had an opportunity to discuss my transfer to Brescia university to continue my bachelor's degree [under the Fanshawe-Brescia] articulation agreement. The process of transfer was so smooth that I received my credits of my two-year program from Fanshawe and got enrolled in the university in the second year. My Program Coordinator and my mentors went out of the way for me to help complete the transfer process. I would strongly recommend aspiring students to take the benefit of pathway programs as they make things less complicated."
Shagun Rubin Parekh
Fanshawe programs: Chef Training certificate, Food and Nutrition Management.
Degree program and institution: Nutrition and Family Studies Bachelor's in Arts and Human Ecology, Brescia University College.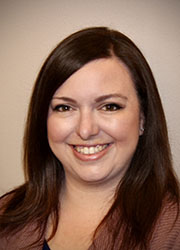 "My career goal was to become a Registered Dietitian and when I was looking at the different programs that Fanshawe offered, I came across the Food and Nutrition Management Program. I attended an open house at Fanshawe prior to applying to any programs and learned about the potential bridging program that was in the works between Fanshawe College and Brescia University College for students enrolled in the Food and Nutrition Management Program to move onto Brescia University College in the Honours Specialization in Nutrition and Dietetics Program once graduated from Fanshawe. Since I wanted to become a Registered Dietitian and Brescia was my number one University of choice, I found it very appealing to know that I could gain practical hands-on experience through Fanshawe College and also obtain transfer credits towards the Dietetic Program at Brescia, so I decided to apply to the Food and Nutrition Management program at Fanshawe College. I participated in the degree completion agreement between Fanshawe College and Brescia University College, and I was accepted right away into year 2 in the Honours Specialization in Nutrition and Dietetics Program at Brescia."
Samantha Bombardier
Fanshawe programs: Chef Training certificate, Food and Nutrition Management
Degree program and institution: Honours Bachelor's degree with Specialization in Foods and Nutrition, Brescia University College.
"The opportunity to travel and study abroad in Ireland for one academic year has opened up many personal and professional opportunities to me. Upon graduating in April 2017, I returned to Canada and became a supervisor at a four-star hotel in Muskoka. Since returning to London in 2018, I am now Director of Events at Bellamere Winery and Event Centre, while training to become Director of Operations. In addition, I have returned to Fanshawe College as a professor in the School of Tourism, Hospitality and Culinary Arts. Travelling for education provides the opportunity to enhance one's potential to learn, grow and to create a diverse and open mindset. I thank Fanshawe College for the opportunity to study and work abroad."
Michael Crich
Fanshawe program: Culinary Management diploma.
Degree program and institution: Bachelor of Arts, Hotel Management, IT Tralee, Ireland.
Katrina attended Griffith University in Queensland Australia in 2010 and graduated with a Bachelor of Business, major in Marketing degree. Her credits from her advanced diploma at Fanshawe College transferred to Griffith, so she only had to study for one year to earn a degree! This agreement is still in place today. Upon graduating, she received the Griffith Award for Academic Excellence for her grade point average at Griffith University.
Katrina says her experience studying abroad really provided her with a global outlook and an experience she wouldn't trade for the world. She feels that this experience and her educational background has really been a selling point with employers and has helped her obtain the role she is currently in at Fanshawe College as the Pathways and Special Events Consultant in the Lawrence Kinlin School of Business.
Katrina Padyk
Fanshawe program: Business Administration - Marketing.
Degree program and institution: Bachelor of Business, major in Marketing degree, Griffith University, Australia.
After finishing one year of General Arts and Science at Fanshawe, Mason Bourdeau returned to Fanshawe to start the Honours Bachelor of Applied Technology - Biotechnology degree. Mason decided to continue his education at Fanshawe because he liked the way college degrees feature the best of both worlds - university theory with the college experiential approach to learning. Mason enjoyed the professors at Fanshawe the most as they genuinely cared about him and his success. In fact, it was with help from a professor that he learned about the opportunities to follow an academic pathway at Fanshawe and to pursue a degree.
Mason Bourdeau
Fanshawe program: General Arts and Science diploma.
Degree program and institution: Honours Bachelor of Applied Technology - Biotechnology, Fanshawe College.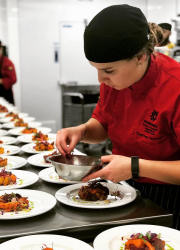 "My Fanshawe pathway began with the Culinary Skills Certificate program followed by the Culinary Management Diploma and Artisanal Culinary Arts Graduate Certificate. I chose to do a graduate program at Fanshawe because I enjoyed my first two years so much and appreciated how incredible the professors were...I just knew I wasn't done yet and wanted to specialize further. Also, getting to study and practice in a brand new facility was like none other."
Courtney Hoffman
Fanshawe program: Culinary Skills certificate.
Pathway program and institution: Culinary Management diploma, Fanshawe College.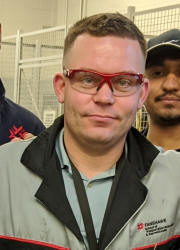 "My academic pathway started with the Motive Power Technician program at Fanshawe followed by the Automotive Technician apprenticeship and now the Bachelor of Technology program at Thompson Rivers University to further my educational qualifications. Fanshawe offers a variety of pathways to suit many students' needs and the support system that is in place provides extra reinforcement for students to really be able to achieve their academic goals to obtain the requirements for job aspirations they may have. I highly recommend Fanshawe to anyone looking to better their education and be a part of the falcon community. Being a falcon changed my life forever; I hope it does the same for you!"
Nicholas Newman
Fanshawe programs: Motive Power Technician diploma and Automotive Technician apprenticeship.
Degree program and institution: Bachelor of Technology, Thompson Rivers University, BC.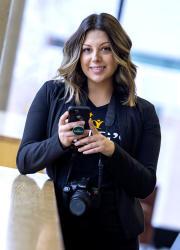 "After completing my undergraduate degree from Laurentian University and securing a full-time job, I was left feeling unfulfilled. I always loved writing and knew I had to build on the skills I had to elevate the degree I did earn in order to find the career I was hoping for. The Public Relations - Corporate Communications (PR-CC) graduate certificate at Fanshawe was the perfect way for me to merge my interests and skills to build a career. I am currently the Digital Content Creator at King's University College in London, Ontario and there is no doubt that the PR-CC graduate certificate helped me secure the position. Fanshawe sets its students up for success. I felt extremely supported throughout my time there, providing tons of resources and systems to help ensure students succeed. Fanshawe College is falcon awesome!"
Chantal Quagliara
Fanshawe program: Public Relations - Corporate Communications
"I really enjoyed my time studying at Fanshawe! I felt that the program set me up for success in my current field and helped me enter the workplace with ease. My program at Fanshawe introduced the Pathway option to the University of Gloucestershire (UoG) in the UK in one of our classes. I was immediately interested, and my professors were incredibly helpful in getting me more information! I chose UoG because it had a great program that was complementary to my previous studies. This program had great connections with individuals working in relevant industries and the professors were extremely knowledgeable in their fields. I loved my experience at UoG! Due to COVID-19, my classes were online, however, I still felt connected to the program and my classmates. Since I was international, I was assigned a personal tutor as well as a supervisor for my thesis. I had a weekly check-in with both my supervisors which helped me stay connected to the program and organized in my writing. I was also lucky enough to fly over and attend the graduation ceremony. Once I got there, I met many of my classmates and professors in person! It was a great experience. My favourite part was the support that I received from my supervisors throughout the whole process. They really made the process seem manageable and supported my ideas while writing.
 
[A piece of advice for other students], if you can, go to the University in person! Whether it is for the entire program, just to visit or to go to the graduation ceremony, I would recommend seeing the University! It makes the experience so much more "real" and makes you realize how amazing of an opportunity it is!"
Robyn Frosst
Fanshawe program: Public Relations - Corporate Communications