Our services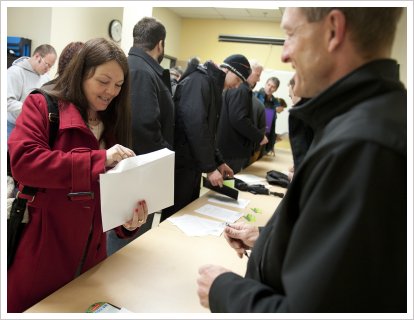 We help open the door to employment!
All of our services are free to the community!
The following services are available to anyone, including people currently working, those who are underemployed, people looking for work, students, apprentices, internationally-trained individuals and employers:
Information on careers, education, labour market and training opportunities;
Access to computers with Internet access;
Photocopier, telephone and fax;
Employment information workshops on a variety of topics;
Advice and referrals to other community services and support.
Note: All services available are for job search, self-employment, hiring or career planning purposes only.
For those unemployed or working less than 20 hours per week and not attending full-time school or training, a CES employment consultant is available to work with you to assess your level of need for individualized assistance and support. Our staff will help you with customizing a plan to assist you in achieving your goals.
Job search assistance
We will provide you with structured and individualized support for conducting an effective and organized job search.
Job matching and placement support
Eligible participants will receive supported access to local employment opportunities; e.g. cold-calling, access to the hidden job market, subsidized placement into employment and on-going support and assistance during employment.
Ministry-delivered programs
We are your first step to information and referrals to all Ministry delivered programs* including:
* Eligibility and suitability criteria apply.
More information