The Orientation team has developed an app for new students at Fanshawe with all the information you need to start your year off right. It will be updated over the coming months to get you ready for a great start to your semester.
The app is available free for Android, iOS, and also in your browser.
Check out this video to learn more
Click below to download the app: 
Install Guidebook on your device
Search for Fanshawe Orientation 2018-19 and add it to your device
Web: If you do not have an Android or iOS device you can also access it on the web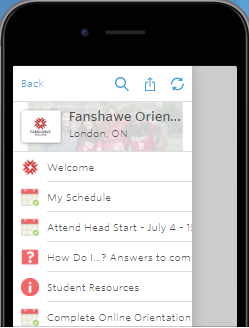 App details:
All you need to know about Orientation in one place on your phone;
Listing of all the events and activities you should and can   attend;
Build your own personal orientation schedule on your own device;
Keep up with what is going on through social media Campus maps to help you get around and find your classes;
Content available on web for those with a device that does not support iOS or Android.