How do I create a CCR account? 
You can create a CCR by logging into your FanshaweOnline (FOL) account and clicking on the Career/Co-op/CCR button: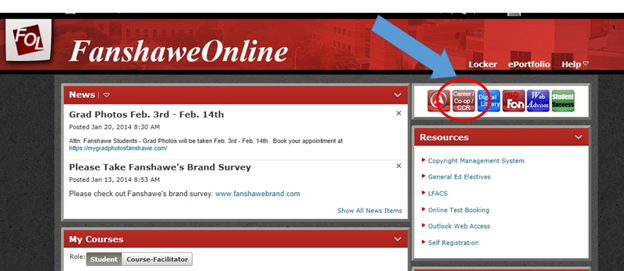 Then, click on the "Co-Curricular Record" option at the top of the screen.


How do I add a new activity that I've participated in?
What are learning outcomes?
Learning outcomes will appear on the printed version of your individual CCR, and are identified by you. Learning outcomes show meaningful learning as a result of your involvement, by reflecting on your experiences.  
How is my CCR validated by faculty and College staff?
When the activity is completed, click "ADD TO RECORD" and your request for CCR recognition is forwarded to a validator for approval. Validators are the individuals responsible for approving or declining requests for an activity to be added to a CCR. A validator is usually the College staff member or faculty member who oversees, coordinates or facilitates the activity (i.e. group, club, event, etc.) and can verify the authenticity of a student request.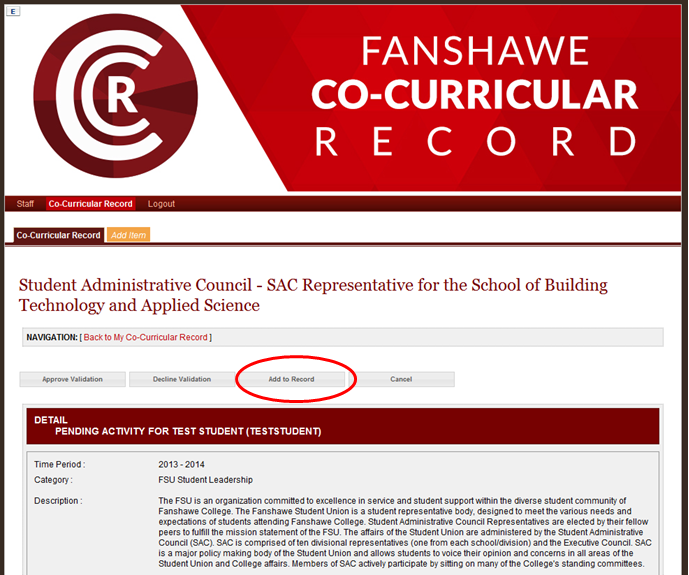 How do I print my CCR?
Once your activities have been validated, at any point you are able to generate a printed PDF version of your CCR by clicking on "Print My Co-Curricular Record".


Does the CCR have any key dates or deadlines?
All activities that you've participated in should be added by March 31 of the same academic year. Validators are responsible for approving or declining all pending requests by April 30 of the same academic year.
Reminder: The CCR is not retroactive so you must add activities during the same academic year in which you were involved.
Who can I talk to for CCR assistance?
Please contact ccr@fanshawec.ca with your questions or concerns.
Fanshawe Co-Curricular Record. Recognize your Potential.