Why should I use the Learning Centre?
The Learning Centre is a great place to get support, regardless of your academic abilities. Many strong students use the "LC" to get even better grades. Some students who start off struggling find the Learning Centre not only helpful initially but keep coming back because of the great learning environment. You can study alone or in small groups with your classmates and get great assistance from our math staff. If you need support with writing, communication or study skills you can easily set up an appointment by calling 519-452-4265 or dropping in to room F2001. We have tried to make the Learning Centre a comfortable place to work towards your academic goals.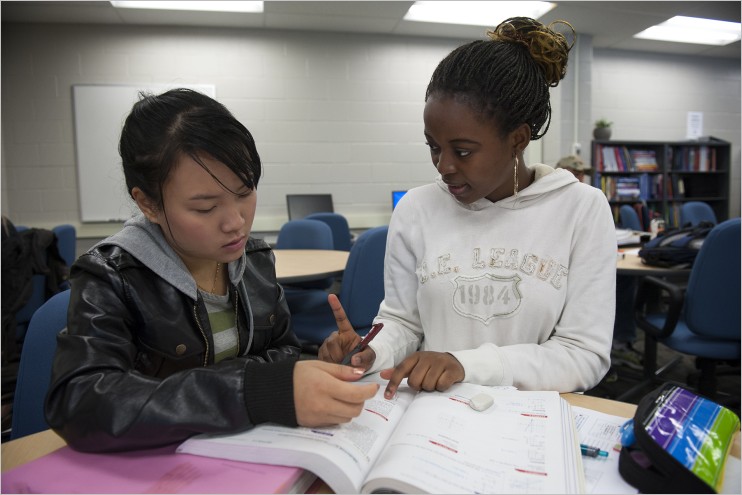 Who uses the Learning Centre?
Sure students who struggle are often referred to the Learning Centre, but there are a lot of students who do really well that invest their time in the Learning Centre too. International and ESL students frequently visit the centre to get help from specially trained staff.
Students often say they find it a comfortable atmosphere to study in. 
When can I use the Learning Centre?
Monday: 8:30 a.m. to 4:30 p.m.
Tuesday and Wednesday: 8:30 a.m. to 7:30 p.m.
Thursday: 8:30 a.m. to 4:30 p.m.
Friday: 8:30 a.m. to 12 noon
What services are available to me in the Learning Centre?
The professional staff in the Learning Centre tutor students in a variety of subjects. Although most students come in because they need assistance with study skills, writing or math, we also provide physics and chemistry help.

If you need help with a course that contains more specialized material, you may find a peer tutor helpful. To find out more about peer tutors click here.
Who works in the Learning Centre?
We have a great staff with many years of experience helping students. In addition to being smart, they are also very caring and patient. They really want to see you do well! We have staff dedicated to math and English. We also have someone to help second language learners. If you could use help with study skills, we have someone who can help you with that too. Feel free to get help in all the areas you need!
Do you offer workshops to students?
There are two main categories of workshops offered. First, for students who have just been accepted to Fanshawe and want to get off to a good start, there are JumpStart workshops in math, English, and study skills that you can attend before regular classes start. You can click here for current schedules.
Second, for current students, there are workshops in English/essay writing or study skills and for second language learners, there are conversation circles. All of these workshops are offered during the regular semester. 
Where is the Learning Centre located?
The Learning centre is located in "F" building on the second floor in room number F2001.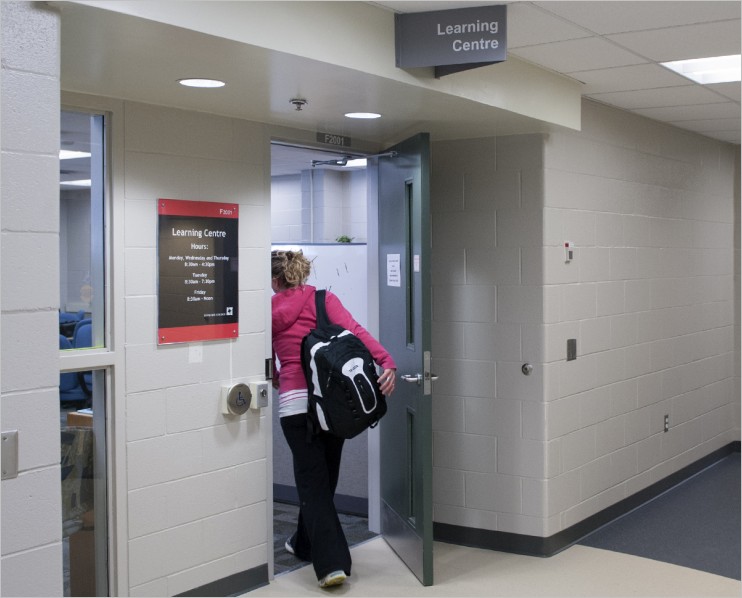 Do I need an appointment to use the Learning Centre?
It depends on why you are coming to the Learning Centre. No appointment is needed for math; you can just drop in and open your books. If you want to see someone about study skills or writing and communication you need to make an appointment by calling the Learning Centre at 519-452-4265 or dropping in to Room F2001.
What does it cost to use the Learning Centre?
Arguably the best deal on campus! There is NO charge to use any of the Learning Centre services!
Do I need to be referred to use the services at the Learning Centre?
NO referral required! Everyone is welcome! 
Can I just do my homework in the Learning Centre?
Yes, lots of students do their math, chemistry, and physics homework in the Learning Centre. Staff is available to sit down with you and answer any questions or help you if you get stuck.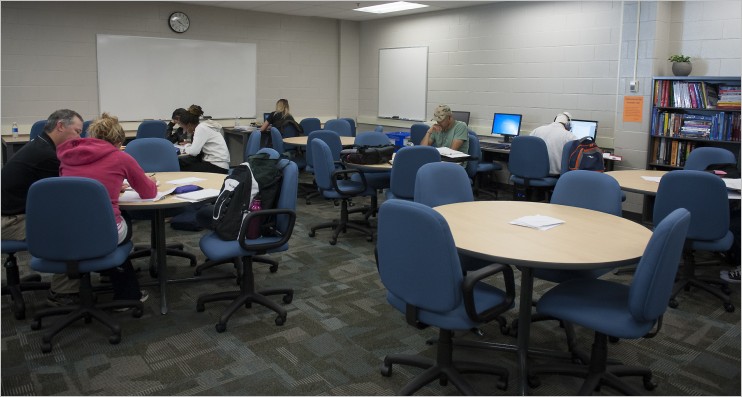 Can I drink my coffee in the Learning Centre?
Yes, as you can tell, it is a pretty relaxed place. Snacks are allowed - all we ask is that you be respectful of the place and other students and you clean up after yourself. 
What services are available to students prior to starting the semester?
We have workshops for students in transition. These are the Jumpstart programs and are available for math, writing, and study skills. They are all designed to get you started on the right foot. Please check the JumpStart website to see what is coming up. If you just want to check out the Learning Centre before you start the semester, feel free to stop in and introduce yourself. We are always glad to meet new students!