March 26, 2014
Innovation thrives here
On March 26, 2014, Fanshawe College hosted the third annual Student Research and Innovation Day (SRID). This event allows students to showcase truly innovative projects that they have created independently, in-class or as a part of a capstone project. With more than 29 entrants, the James A. Colvin Atrium was filled to capacity with project displays and visitors touring the exhibitions.
This year's event differed from previous SRID events as projects were divided into two categories: Applied Research and Social Innovation and Scholarship. The day commenced at 1 p.m. with a lecture in the Scotiabank Lecture theatre by Dr. Cecil Shewchuk. Dr. Shewchuk presented An Idea is Not Enough to help students bridge the gap between the conception of an idea and the implementation of an entrepreneurial business plan.
Evaluation of the projects began at 2 p.m., with three judges for each category. The judging staff was comprised of two Fanshawe College vice-presidents and leading members of London's business and manufacturing sectors. Students had five minutes to present their entry and impress the judges. Entries ranged from a hydraulic test stand to a mobile application aimed at improving interaction between faculty and students in college environments. Many student projects were conceived in the classroom but had real world applications.
After the judging had concluded, Dan Douglas, Dean for the Centre for Research and Innovation, presented the top three prizes in each category as well as an additional prize each for the most popular entry of the day.
The winning entries were:
Applied Research
1st place - Large Scale Production of Bacterial Cellulose for Multi-Purpose Commercialization by Angela Whitcomb
2nd place - Hydraulic Test Stand by Ryan Vandendriessche, Derek Van Hemert, Dan Pszeniczny, Joe Greco and Andrew Xuereb
3rd place - Experimental Evolution of an E. Coli Strain: Optimized for Five-Carbon Sugar Metabolism by Jasmine Therrien
People's Choice - Cable Concrete: The Future of Erosion Control by Alex Williams and David Strydonck
Social Innovation and Scholarship
1st place - Fairview Gardens: Community for Adults with Intellectual Development Diversities by LaLa Strumpher, Tara Dupuis and Diana Lehan-Port
2nd place - Enhancing Capabilities Through Design and Nature by Manoj Dubb and Mark Musta
3rd place - CheapON: The CHEAP Ontario Groceries App by Allison Gray, Zoya Sekhon, Mansi Bhavsar, Mandy MacKinnon and Sara Lake
People's Choice - Phyta: Developing a Rich-Media Web Framework to Improve Client Education and the Learning Experience Within Natural Nutrition Practices by Stephanie Whent, Ashley Gerrard, Jillian Leigh Tester and Matthew De Melo
With generous donations from the London Economic Development Corporation, Ontario Centres of Excellence, Harrison Pensa Law Firm and the Fanshawe College Alumni Association, students were rewarded for their innovation.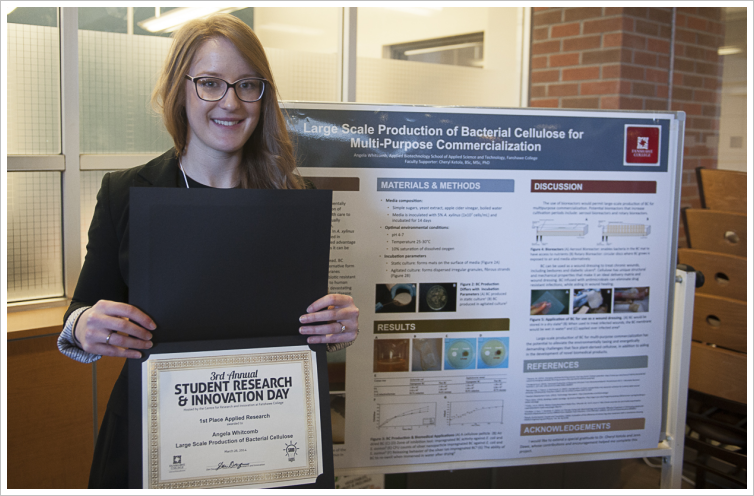 Angela Whitcomb won first place in the Applied Research category.