Meet our staff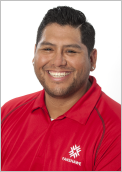 Daniel Kennedy
Aboriginal Community Outreach and Transitions Advisor
d_kennedy2@fanshawec.ca
Greetings.
My name is Daniel Kennedy, I am a member of the Oneida Nation of the Thames. I am Oneida on my father's side, as well as Blackfoot (Piikani First Nation) on my mother's side.
I attended school at Wilfrid Laurier University, where I graduated with an Honours Bachelors of Art in Sociology in 2013. During my years as a Laurier student, I was the President of the Aboriginal Students' Association from 2011-2013. I was also heavily involved within the Aboriginal Student Centre at Laurier, working under the Aboriginal Students Recruitment and Retention Officer.
My previous employment was at the Southern First Nations Secretariat (SFNS), working in the Technical Services Department. Previous to that I held summer employment positions in the Finance, Post-Secondary, and Special Events departments.
In my newly appointed role as Aboriginal Community Outreach and Transitions Advisor here at Fanshawe College, I will assist incoming students with the transition to college life, answer admission questions, visit communities, make recruitment visits, and guide students transitioning to life post-graduation; whether that be in the workforce or continuing education. I hope to create more First Nations awareness both on and off-campus. Overall, my mission is to ensure that current and prospective students feel supported and welcomed throughout their journey here at Fanshawe. Promoting post-secondary education to First Nations people is a critical step towards bettering our peoples' future. 'Closing the gap' is my priority and through hard work I will achieve this goal.
I am very excited to work with the staff here at the First Nations Centre at Fanshawe College, and I hope that we will achieve great things in the near future. I look forward to the challenges and new experiences this role will provide to me in my young professional career. I hope to grow alongside with the students as they fulfill their post-secondary endeavors.
Best regards
Daniel Kennedy
Information For
Fanshawe College's special constables, who provide security services on campus, are now carrying naloxone kits.

Essential Skills for Truck Drivers is free to eligible participants and provides a solid understanding of safety, legislation, procedures and standards used in the Ontario trucking industry.
RT @unboundfashion: We are honoured to announce Unbound Revival is nominated by @canifff_ca in three categories: Best Canadian Fashion Film…
View on Twitter