Ignite Career Conference 2020
Ignite Career Conference will take place on Saturday, November 7, 2020. 
Ignite Career Conference 2019 highlights
This year marked the 5th anniversary of the Ignite Career Conference. Ignite 2019 featured two keynote speakers, an employer panel and a series of workshops including a Leadership Lightning Round with Fanshawe's Executive Leadership Team. The theme for this year was Ignite your potential and celebrate your future. Students learned how to identify their own skills, passions, and values, as well as how to translate those into pathways to success in their future careers. This year's event was held on Saturday, November 2, 2019, in Fanshawe's Alumni Lecture Theatre. 
Ignite 2019 event agenda
| | |
| --- | --- |
| 8:00 - 9:00 a.m. | Registration, breakfast and opening |
| 9:00 - 10:00 a.m. | Keynote: Tareq Hadhad |
| 10:15 - 11:15 a.m. | Leadership Lightening Round |
| 11:30 a.m. - 12:30 p.m. | Keynote: Sean Aiken |
| 12:30 - 1:15 p.m. | Lunch |
| 1:15 - 2:15 p.m. | Workshops |
| 2:30 - 3:30 p.m. | Employer Panel |
| 3:30 - 4:00 p.m. | Wrap-up and draw |
Keynote speakers
Tareq Hadhad
In 2012, Tareq Hadhad was a Syrian refugee. He is now living a new life with his entrepreneurial family in Canada's east coast. He is the founder and CEO of Peace by Chocolate, the recipient of Start Up Canada's National Newcomer Entrepreneur Award, named one of the Top 25 Immigrants in The Maritimes and was selected by Google as the National Hero Case for 2018. All this has happened since Tareq's arrival on Canada's East Coast in December 2015.
Tareq has shared his keynote with Amnesty International, human rights leaders, Chambers of Commerce audiences and organizations across Canada, Jamaica and Europe. He speaks about the fear and confusion that came when violence and danger begin to slowly surround his family and the decision they made to leave everything behind. Perseverance Through Adversity is an emotional rollercoaster that addresses his compelling journey, the positive impact of refugees, immigration and the spirit of entrepreneurship.
Sean Aiken
After graduating from Capilano University with a Business Administration degree, top of his class with a 4.0 GPA and Class Valedictorian, Sean Aiken struggled with the direction his life should take. He was overwhelmed with anxiety and the pressure and expectation of parents, teachers, peers, and society. Sean had no idea what he wanted to do with his life, so he decided to try everything...
The One Week Job Project documents one year of Sean's life as he worked 52 different jobs in 52 weeks as he travelled across North America in search of his passion. The project resonated with millions around the world and inspired an award-winning documentary film and book published by Penguin Random House.
Sean has been featured in The New York Times, Wall Street Journal, TIME, CNN, 20/20, The Rachael Ray Show, Good Morning America, MTV and countless other media outlets around the world. Come hear Sean share his extraordinary story, the various adventures his journey took him on and the valuable life and career lessons he discovered along the way!
Leadership Lightning Round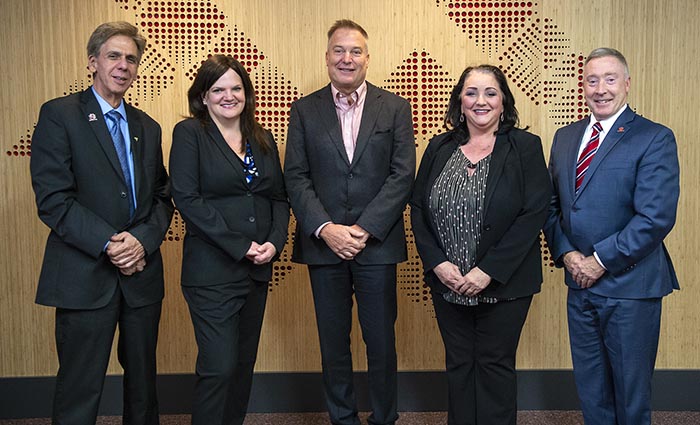 Hear directly from the Fanshawe College Executive Leadership Team about what it means to be a leader and how to find your inner leadership qualities.
Workshops
High Five Messages of Career Development. Your Keys to Success!
Emotional Intelligence
Mental Wellness
Resilience: The Art and Science of Bouncing Back
Understanding the Medicine Wheel and Your Career
Employer panel
Our panel of employers will discuss a variety of career related topics with specific reference to the benefits of skills, volunteering and work ethics. This year's panel will include representatives from Carrier Truck Centres, CIBC, Sodexo, CTV News Kitchener, and WeedMD.
Prize draw
This year, we are giving away ten $50 Ultimate Dining gift cards, London Knights tickets, as well as signed copies of Sean Aiken's book The One-Week Job Project: 1 Man, 1 Year, 52 Jobs.
Registration details 
Ignite is a FREE event for all Fanshawe students and alumni! 
Registration will open in September 2020. Students can register through the Career Events page on FOL or in person at the Career Services office of the London campus in room D1063.
FOL: Resources > Career/Co-op/CCR > Career > Events
Students with questions can call 519-452-4294 or stop by the Career Services office.  
To view photos from past conferences, visit our gallery.
Have questions?
We're here to help!
Information For
Fanshawe's commitment to academic quality and student success is stronger than ever.

In 2018, Ayden Miller (keyboard/synthesizer), Stefan Boulineau (lead vocals) and Cole Wilson (lead guitar) formed their band New Friends while working together in the studio of Fanshawe Music Industry Arts program.
RT @LeapJunction: Thank you @iabclondon! We're so proud to be part of #LondonCAN! #EntrepreneurshipSupport
View on Twitter