Information on the 2019 conference is coming soon. View photos from past conferences in our gallery.
Ignite Career Conference 
Last year, the Ignite Career Conference focused on Healthy Self, Healthy Career. The conference included a keynote speaker, a series of workshops, an exhibitor fair, and an employer panel that educated students on how to identify their own skills, passions, and values, as well as how to translate those into pathways to success in their future careers. This years event will be held on Saturday, November 2, 2019, in Fanshawe's Alumni Lecture Theatre. Registration details will follow. 
Last years lineup included: Keynote, Nicole Snobelen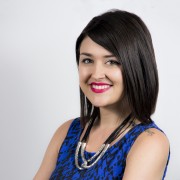 Nicole is a proud graduate of Fanshawe College's Fashion Design program. After graduation, Nicole started her own business, Evelynn, by Nicole Snobelen. Nicole owns, operates, and hand-makes all of the clothing herself. In 2015, Nicole also founded The Abby Fund, a charity dedicated to lifting the spirits of children suffering from illness by designing their dream princess or superhero outfits. 
Nicole is all about making an income while making an impact and believes that entrepreneurship isn't just about owning a business. It's an attitude that you can channel in your career, in your habits, and in your goals. She will be sharing the story of how she got her business started and how she was able to capitalize on her skills and passions to create a position for herself in the marketplace. 
Workshops
Your Inner Leadership 
What is values based leadership? How do you translate your values into action? In this session, learn about your own values, how to put your values into action, and how those values shape your leadership practice. Compelling and authentic leadership starts with a core system of beliefs. You will learn how to build your leadership capacity from within.
High Five Message of Career Development. Your Keys to Success! 
High Five Messages of Career Development will help to unlock your potential and create pathways to success. Simple to implement, yet we often don't think of them as a package. This workshop will explore each of the five messages and give concrete examples of how they can be implemented in your life! Humour, interactivity and excitement abounds as the messages for career success are unveiled!
Health, Wellness, and Your Career 
Did you know that engaging in career development actually improves your ability to navigate life and work? Career engagement may contribute to your emotional, mental and spiritual wellbeing in positively significant ways. We'll explore this healthy impact by interacting with one another through games, stories and exercises. During our time together, we will discuss future implications for you as a healthier wellbeing related to this career and positive psychology intersection.
Career Resiliency
Motorcycles, Super Heroes, and Smartphones - lessons for bouncing forward. Managing your career future in today's complex labour market can be overwhelming. Bombarded by doubts, thinking you are making a wrong choice, or concerns about success and promotion are great ways to stop igniting your career. This session will give you 5 important lessons for moving forward in your career and give you some tips on making your learning, work and leisure connect you with the future you want.
Exhibitor Fair 
New last year, the Exhibitor Fair served as an opportunity for not-for-profits to showcase their organizations and engage directly with students to discuss volunteer opportunities. 
The fair will took place from in Fanshawe's Forwell Hall. 
Jack Talks
We learned about tips, tools, and experiences that will shift how you think about mental health and create lasting change. Learn more about Jack Talks. 
Employer Panel 
Our panel of employers discussed a variety of career related topics related with specific reference to the benefits of volunteering and works ethics.
The panel included representatives from ZTR Control Systems, Coca-Cola, CNIB, Libro, and Forces. 
Registration Details 
Ignite is a FREE event for all Fanshawe students and alumni! 
Registration will open in September. Students can register through the Career Events page on FOL or in person at the Career Services office - Oxford Street Campus, room D1063.
FOL: Resources > Career/Co-op/CCR > Career > Events
Students with questions can call 519-452-4294 or stop by the Career Services office.