Fanshawe's 2021 United Way campaign
Our annual campaign is driven by the goal to empower people in our communities to enjoy their lives to their fullest potential, no matter what the odds are. The funds support local agencies helping people right around the corner to overcome homelessness, poverty and barriers to education. We encourage everyone to work together in tackling these persistent, unignorable issues close to home, ensuring accessible supports for everyone in our communities.
---
Online ​50/50 electronic raffle
Did you know? One in five people across our region used a United Way funded program or service last year. 125 agencies throughout our region rely on supports from United Way. Chances are you know at least one person who relies on local assistance opportunities funded by UW, like our students, our neighbours and possibly even our coworkers (and their families).
You can help make a difference for them! By participating in Fanshawe's 50/50 electronic raffle this week, you are joining the fight to provide basic needs like food, shelter, physical and mental wellbeing, social connection and safety. Ticket sales go toward our 2021 campaign, meaning 100% of the proceeds from each ticket sold will be directly invested back into local programs.
Tickets:
Three for $10 - that's like providing two students a daily serving of milk each for one month.
Ten for $20 - that's like helping two families to secure a garden plot, compost, water, seeds and instructions to grow food for a season.
Fifty for $50 - that's like providing five individuals with access to a counselling session each at a walk-in clinic.
The online 50/50 electronic raffle is open to everyone! Ticket sales for the final 50/50 raffle ended on Friday, July 9 at 12 p.m.
To buy tickets, go to https://unitedwayem-web.bump5050.net/.
---
---
Fanshawe's 2019 United Way campaign: another record-breaking year!
Fanshawe's United Way committee is proud to announce that you have helped surpass our 2019 United Way campaign goal. College staff, students, alumni and retirees have made the largest contribution in Fanshawe's history, a record-setting $136,777 donation to the United Way!
This all-campus total, which reflects funds raised through payroll contributions, as well as fundraising events and student activities, will be distributed to United Way agencies across each of Fanshawe's campus communities.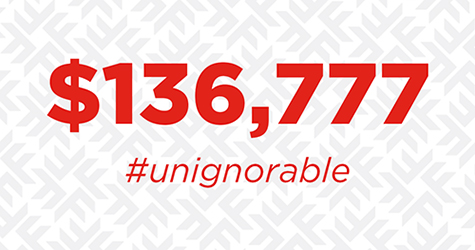 "In supporting the College's community involvement in the United Way, it provides us with an amazing opportunity to help support people facing issues of poverty, homelessness, and breaking down the barriers to education," says Michelle Giroux, campaign chair. "The United Way committee members have been hard at work throughout this past year to increase the visibility of the Fanshawe campaign and raise awareness to local issues that present within our local region. It has been a rewarding experience to be involved with the committee that represents Fanshawe and works tirelessly to support our community."
Fanshawe has surpassed the $100,000 mark for ten years in a row. Our total contributions to the United Way amount to more than $1.6 million since the College began donating.
"I would like to acknowledge the help and support of this year's campaign committee, canvassing champions, volunteers and donors, along with our sponsored employee Trudy Kitchen," Giroux says. "We also congratulate our highest fundraisers, the Campus Security Services and Emergency Management Office team with their efforts for the annual Shoe Shine event, which was led by Special Constable Mike Dukic."
Thank you for showing your local love, supporting our community and giving families hope. Together, we are making local issues unignorable.